Research article
Open Access
Gene expression profiling of porcine mammary epithelial cells after challenge with Escherichia coli and Staphylococcus aureus in vitro
Veterinary Research
2015
46:50
Received: 23 September 2014
Accepted: 1 April 2015
Published: 6 May 2015
Abstract
Postpartum Dysgalactia Syndrome (PDS) represents a considerable health problem of postpartum sows, primarily indicated by mastitis and lactation failure. The poorly understood etiology of this multifactorial disease necessitates the use of the porcine mammary epithelial cell (PMEC) model to identify how and to what extent molecular pathogen defense mechanisms prevent bacterial infections at the first cellular barrier of the gland. PMEC were isolated from three lactating sows and challenged with heat-inactivated potential mastitis-causing pathogens Escherichia coli (E. coli) and Staphylococcus aureus (S. aureus) for 3 h and 24 h, in vitro. We focused on differential gene expression patterns of PMEC after pathogen challenge in comparison with the untreated control by performing microarray analysis. Our results show that a core innate immune response of PMEC is partly shared by E. coli and S. aureus. But E. coli infection induces much faster and stronger inflammatory response than S. aureus infection. An immediate and strong up-regulation of genes encoding cytokines (IL1A and IL8), chemokines (CCL2, CXCL1, CXCL2, CXCL3, and CXCL6) and cell adhesion molecules (VCAM1, ICAM1, and ITGB3) was explicitly obvious post-challenge with E. coli inducing a rapid recruitment and activation of cells of host defense mediated by IL1B and TNF signaling. In contrast, S. aureus infection rather induces the expression of genes encoding monooxygenases (CYP1A1, CYP3A4, and CYP1B1) initiating processes of detoxification and pathogen elimination. The results indicate that the course of PDS depends on the host recognition of different structural and pathogenic profiles first, which critically determines the extent and effectiveness of cellular immune defense after infection.
Keywords
Innate Immune ResponseMastitisIngenuity Pathway AnalysisCanonical PathwaySomatic Cell Count
Introduction
Postpartum Dysgalactia Syndrome (PDS), with Coliform Mastitis (CM) as cardinal symptom, is known as a multifactorial infectious disease in postpartum sows and a serious problem with high economic relevance in modern piglet production worldwide [1]. Significant milk production failure and other clinical signs including increased rectal temperature (>39.3 °C) postpartum, loss of appetite or low water intake, redness and inflammation of teats, pain, failure to expose teats and nurse, and sometimes vaginal discharge are typical indicators of affected animals [2]. While initial research focused on husbandry- and management-influenced occurrence of PDS, current studies rather concentrate on the role of causative pathogens, immune defense mechanisms, infection pressure and genetic predisposition. Gram-negative pathogens, e.g. Escherichia coli (E. coli) and gram-positive pathogens, e.g. Staphylococcus aureus (S. aureus) were most commonly isolated from milk of PDS-positive, but also from non-affected sows [3,4]. The major question is why only some sows develop subclinical or clinical signs of infection within 12 h to 48 h postpartum after contact with ubiquitous bacteria while others remain clinically healthy. Frequency and severity of this complex disease appear to depend on immune competence including resistance to infection of the sow. While the heritability of CM resistance has been estimated in a range from 0.02 up to 0.20 [5], further genetic studies on mastitis susceptibility are lacking. Extremely low infectious dose for colonization of mammary gland of sows of less than 100 coliform microorganisms [6] abet microbial mammary tissue invasion. In sows as well as in other animal species E. coli pathogenesis has been associated with lipopolysaccharide (LPS) endotoxin release inducing acute and severe inflammation [7]. In contrast, mastitis induced by S. aureus infection is mostly characterized as subclinical, mild and persistent [8]. Pathogenesis of both infections may proceed to pathogen clearance or to chronic infection depending on the effectiveness of host defense mechanisms especially at early stages of cellular response [8]. When pathogens have overcome physical barriers and entered the lumen of the mammary gland through the teat canal, macrophages and mammary epithelial cells (MEC) are important for initiating and driving the immediate non-specific innate immune response [9]. Inflammation response of periparturient sows after inoculation of porcine mammary gland with different potential mastitis-causing E. coli strains specified a dominant role of that pathogen species in CM [10]. The development of clinical symptoms of CM in the sow was suggested to be associated with a locally increased production of pro-inflammatory cytokines such as interleukin 1-beta (IL1-beta), IL6, IL8, and tumor necrosis factor-alpha (TNF-alpha) in response to intramammary E. coli infection [10,11]. Additionally, the time of infection of the mammary gland relative to parturition and the number of circulating neutrophils at the time of infection were shown to influence the development of clinical CM in the sow [12]. No published study was found regarding the inflammatory response of periparturient sows after inoculation of mammary gland with S. aureus. But it was commonly shown that E. coli and S. aureus are also the main causative agents of bovine mastitis, the most economically important disease of dairy ruminants. Comparative kinetic studies on infected udder of cows and inoculation of primary bovine mammary epithelial cells (pbMEC) with E. coli and S. aureus showed that E. coli swiftly and strongly induced the expression of cytokines and bactericidal factors, while S. aureus elicited a retarded response and failed to quickly induce the expression of bactericidal factors [8]. Both pathogens induced similar patterns of immune response genes, but the host response to E. coli was observed to be much faster and stronger than that to S. aureus infection [8]. Also different expression profiles of upstream as well as downstream regulators of early responses of pbMEC to E. coli and S. aureus may contribute to the different clinical manifestations and outcome of mastitis caused by these two pathogens [13]. Except for few referred studies on pathogen defense mechanisms of porcine mammary glands, the role of porcine mammary epithelial cells (PMEC) in the initiation of the innate immune response remains largely unknown. Our study focused on inflammatory response mechanisms of PMEC, isolated from lactating sows, after challenge with potential mastitis-causing pathogens such as E. coli and S. aureus. Strains from both pathogens used in our study were isolated from milk of PDS-positive sows. The molecular characterization of affected signaling pathways and involved signaling molecules in PMEC dependent on challenge time was performed by microarray analysis. Similarities and differences in the response of PMEC to both heat-inactivated pathogen species were determined by comparing the expression profile between the pathogen-challenged PMEC groups and unchallenged control as well as among the challenged groups. Selective analysis of most and strongest affected molecular and cellular functions, canonical pathways, upstream regulators and signaling networks were performed to throw light on the role of PMEC in pathogen clearance after bacterial invasion. Our results may especially improve the understanding of the specific reaction of PMEC to pathogen challenge and may help to get insight in how and to what extent environmental bacteria trigger inflammatory and immune responses in porcine mammary gland in general. To our knowledge, this is the first microarray-based study investigating genetic factors that determine the initial immune response of PMEC in vitro, at 3 h and at 24 h post-challenge (hpc) with heat-inactivated E. coli and S. aureus strains, potentially causing mastitis of sows.
Materials and methods
Cell culture and pathogen challenge
Primary cell cultures were established from mammary glands of three lactating sows of commercial herds. Animal care and tissue collection was performed in compliance with the German Law of Animal Protection. The experimental protocol was approved by the Animal Care Committee of the Leibniz-Institute for Farm Animal Biology, Dummerstorf, Germany. Tissues from eight mammary complexes cranial of the navel were collected aseptically immediately after slaughter from each individual. Subsequently, tissue samples were washed in Hank's Balanced Salt Solution (HBSS, PAN Biotech, Aidenbach, Germany) containing 17 mM 4-(2-hydroxyethyl)-1-piperazineethanesulfonic acid (HEPES, PAN Biotech) and 2% Antibiotic/Antimycotic Solution (APS, 10 000 U/mL penicillin, 10 mg/mL streptomycin sulphate, 25 μg/mL amphotericin B, PAA, Cölbe, Germany). After a second washing step, tissue samples were finely minced using sharp blades and placed in 15 mL falcon tubes. Washing steps were repeated until the supernatant was clear. Tissue digestion steps were performed in collagenase solution (Type III, 200 U/mL, Biochrom, Berlin, Germany) at 37 °C for 45 min. Occasionally, digested tissue was mixed with washing buffer and filtered through stainless steel meshes (100–380 μm pore size, Sigma-Aldrich, Steinheim, Germany) to remove undissociated tissue and debris. Cells were collected by centrifugation at 1000 rpm and 15 °C for 10 min and pellets were resuspended in washing buffer without APS. This step was repeated until the supernatant was clear (3–4 digestion steps in total). At the end, cell pellets were resuspended in complete medium consisting of Dulbecco's Modified Eagle Medium/Nutrient Mixture F-12 (DMEM/F12, PAN Biotech), 10% fetal bovine serum (FBS, PAA), 1% APS, 10 μg/mL insulin (Sigma-Aldrich) and 1 μg/mL hydrocortisone (Sigma-Aldrich). Primary cells were cryopreserved in 90% FBS and 10% dimethyl sulfoxide (DMSO, Carl Roth, Karlsruhe, Germany). Before starting the experiments, cells were thawn, plated onto collagen-coated (1:10 collagen R in destilled water, Menal, Emmendingen, Germany) 10 cm petri dishes and cultured in complete medium for several days at 37 °C and 5% CO2 in a humidified atmosphere. Fibroblasts, adipocytes and other cell types were removed by selective trypsinization (Trypsin/EDTA (0.25%/0.02%, Sigma-Aldrich) during the following days. These cell types detach more rapidly from plastic after trypsinization than do the epithelial cell islands. The culture was quickly rinsed with growth medium to stop the enzymatic dispersion and to remove the fibroblastic cell areas. The relatively undisturbed epithelial cell islands were further incubated with growth medium. This procedure was repeated several times until a uniform and confluent monolayer of epithelial cells was formed.
Staphylococcus aureus (not characterized) and E. coli (gMEc240, sequence type 101, phylogroup B1, C+) strains used for this experiment were isolates from milk of PDS-positive sows. Both strains were grown in brain-heart-infusion-broth (BHB, Oxoid, Wesel, Germany) at 37 °C to the logarithmic phase of culture growth (Optical Density at 600 nm [OD600] 0.5, ~ 5 × 107/mL). Dilution series were plated to calibrate cell counts from the OD readings. Heat-inactivation of bacteria was performed at 80 °C for 1 h and verified by control plating. Afterwards, bacteria were spun down at 3000 rpm for 15 min, washed twice with DMEM/F12 medium and resuspended herein at a density of 1 × 108/mL. Aliquots were stored at −20 °C.
Approximately 4.4 × 10
5
of the isolated PMEC from each individual (three biological replicates) were seeded and cultured in collagen-coated 6-well plates in complete medium without APS (three technical replicates per individual and treatment condition). On the next day, medium was changed. Forty eight hours after seeding, cells reached 90% confluency. PMEC were challenged with 10
7
/mL heat-inactivated
S. aureus
and
E. coli
, respectively, for 3 h and for 24 h (Figure
1
A). Equivalent challenge treatments have been considered as robust cell stimulation based on previously published reports. After incubation periods, pathogen-challenged and unchallenged cells (control) were washed three times with phosphate buffered saline (PBS, PAA) to remove the bacteria. Cells were collected for total RNA isolation.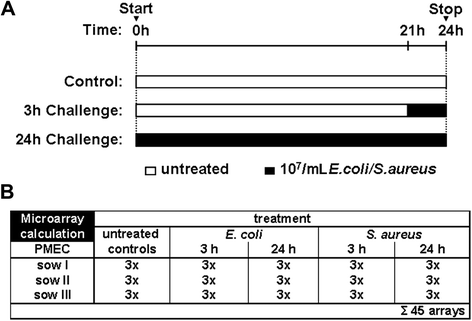 Immunocytochemistry/microscopy
PMEC were seeded on 12 mm coverslips (Carl Roth) in 24-well plate (Biochrom) at a density of 10 000 cells/well. After two days of culturing, medium was discarded, and coverslips were washed twice with PBS and fixed with ice-cold methanol (−20 °C, Carl Roth) for 20 min. Cells were permeabilized with 0.2% Triton X-100 (Carl Roth), diluted with PBS for 5 min and washed twice with PBS. Non-specific binding sites were blocked by incubating the coverslips with 10% FBS in PBS for 30 min at room temperature. Coverslips were washed twice with PBS and incubated with mouse anti-cytokeratin 18-fluorescein isothiocyanate (anti-Cy18-FITC, Sigma-Aldrich) and mouse anti-alpha-smooth muscle actin antibodies (clone 1A4, Sigma-Aldrich), respectively in a humidified chamber for 1 h. Coverslips were washed three times with PBS. Bound anti-alpha-smooth muscle actin antibody was visualized by 1 h incubation of the coverslips with goat anti-mouse FITC-labeled secondary antibody (Sigma-Aldrich). Nuclei of the cells were stained with 4',6-diamidino-2-phenylindole (DAPI, Carl Roth) for 15 min. Coverslips were washed twice with PBS, air dried and mounted with 1,4-diazabicyclo[2.2.2]octane (DABCO) on glass slides (both from Carl Roth). Coverslips were analyzed by immunofluorescence microscopy (Microphot-FXA, Nikon, Düsseldorf, Germany).
RNA extraction, target preparation, and hybridization
Total RNA was isolated using the TRI® reagent (Sigma-Aldrich) according to the manufacturer's instructions. Isolated RNA was purified using RNeasy Mini Kit (Qiagen, Hilden, Germany), and contaminating DNA was removed by DNase I digestion (Qiagen). RNA integrity and quantity were checked by agarose gel electrophoresis and by spectrometry with a NanoDrop ND1000 spectrophotometer (PEQLAB, Erlangen, Germany). Absence of DNA contamination was verified by PCR of the porcine beta-actin gene (forward primer, GAGAAGCTCTGCTACGTCGC, reverse primer, CCTGATGTCCACGTCGCACT, Promega, Mannheim, Germany) with isolated RNA as templates. For the microarray analysis individual biotin-labeled cRNA was synthesized by the Gene Chip 3' Express Kit (Affymetrix, Santa Clara, CA, USA). cRNA was fragmented (~100 bp) and hybridized for 16 h at 45 °C to Affymetrix Gene Chip® Porcine Genome Arrays. The microarrays were scanned using GeneChip Scanner 3000 (Affymetrix). Raw data was deposited in a MIAME-compliant database [14,15] (accession number: GSE64246).
Microarray data analysis
A microarray experiment was conducted in triplicate; three biological replicates were performed for each bacterial strain and experimental condition (3 h, 24 h, and control). A total of 45 microarrays were analysed (Figure 1B). Five experimental groups were built, including cells challenged with E. coli (3 hpc and 24 hpc), cells challenged with S. aureus (3 hpc and 24 hpc) and unchallenged control cells. Data pre-processing was done using Bioconductor/ R packages. After quality control [16], background correction and data normalization were performed using GC-RMA (Log2). To improve statistical power [17], inappropriate probe sets were excluded from further analysis due to three criteria: (i) probe sets absent in >50% of PMEC culture within each experimental group (MAS5 filtering); (ii) probe sets with a small standard deviation (SD < 0.2); (iii) probe sets with a small mean value (M < 2.5). A mixed-model analysis was performed using statistical analysis software (SAS, SAS Institute, Cary, NC, USA) to determine relative changes in mRNA levels, including effects mediated by experimental group and individual animal [Vij = μ + experimental groupi + animalj + eij]. Corresponding q-values were calculated to estimate the proportion of false positives among all significant hypotheses and thus to correct for multiple testing [18]. Alterations in transcript abundances were considered to be statistically significant at p < 0.05 and q < 0.05. Subsequently, data was filtered by fold change (FC < −1.5; FC > 1.5). The Ensembl gene annotation (Sus scrofa 9) was used as previously described [19]. A principal component analysis (PCA) was performed in R to assess an overall trend about the gene expression data and inspection about outliers. Gene lists from microarray results (Additional files 1, 2, 3 and 4) were evaluated with Ingenuity Pathway Analysis (IPA, Ingenuity Systems, Redwood City, CA, USA) to identify most affected molecular and cellular functions, canonical pathways, upstream regulators, and functional networks (p ≤ 0.05, Fisher's exact test).
Real-time quantitative PCR
First strand cDNA synthesis was performed with the same RNA samples used for the microarray analysis applying SuperScript III MMLV reverse transcriptase (Invitrogen, Karlsruhe, Germany) in a reaction containing 1 μg RNA, 500 ng oligo (dT)13VN primer and 500 ng random hexamer primers (Promega) according to the manufacturer's protocol. Real-time quantitative PCR (RT-qPCR) was performed in duplicate to validate the differential expression results. Quantification of mRNA copy numbers was performed on a LightCycler 480 System using the LightCycler 480 SYBR Green I Master (all Roche Applied Science). Sequences of the oligonucleotide primers used (Sigma-Aldrich) and amplicons are given in Additional file 5. The reaction conditions for PCR were as follows: initial denaturation step at 95 °C for 5 min and 45 cycles consisting of denaturation at 95 °C for 10 s, annealing at 60 °C for 15 s and extension/fluorescence acquisition at 72 °C for 25 s. Melting curve analysis and agarose gel electrophoresis were performed after completion of the qPCR run to confirm specificity of the amplification and absence of primer dimers. Threshold cycles were converted to copy numbers using a standard curve generated by amplifying serial dilutions of an external PCR-generated standard (108–102 copies). The calculated copy numbers were normalized with a factor derived from expression of the reference genes HPRT1 and RN7SK according to the method described by Vandesompele et al. [20]. Significance of differences was assessed with ANOVA. The results were declared to be statistically significant at p < 0.05. Spearman's Rank Correlation was used to compare microarray and RT-qPCR measurements using the SAS 9.3 software (SAS Institute, Inc., Cary, NC, USA).
Discussion
This study aimed to examine details about signaling pathways and key signaling molecules involved in PMEC defense mechanisms against pathogen infection which can help to elucidate the contribution of PMEC in pathogenesis of PDS in postpartum sows. To our knowledge, this is the first report describing the transcriptional response of PMEC at 3 hpc and at 24 hpc with heat-inactivated E. coli and S. aureus, in vitro.
However, it is difficult to compare the infection pressure of in vitro to in vivo situations. Therefore, we performed our experiments with heat-inactivated bacteria to provide standardized experimental conditions. In the PMEC model, the time course of the pathogen-specific immune response is well-defined and bacteria concentrations are constant throughout the entire experiments. This is to avoid bacterial overgrowth and depletion of nutrients during experiments. Since in vivo different cell types contribute to the immune response of the porcine mammary gland and the individual variation is high, PMEC model is less complex and therefore useful to describe molecular mechanisms of host-pathogen interactions with good reproducibility. We keep in mind that the PMEC model does not properly reflect the mastitis-induced regulation of chemokines and the complement system in the gland. Also the function of heat-labile proteins during inflammatory response may not be displayed in the PMEC model. Our study consists of a small number of biological replica, which might limit the statistical power, but the variability of pathogen-induced gene expression between biological cell culture replicates seems to be much less than that between pigs itself.
It is known that gram-negative (E. coli) and gram-positive (S. aureus) bacteria have relatively different structural and pathogenic profiles causing a similar, but time-delayed pattern of shock in the host [21]. The major pathogenic protein of gram-negative bacteria is the cell wall component LPS [22]. In contrast, gram-positive bacteria express cell wall-associated and secreted proteins (e.g., protein A, hemolysins, and phenol-soluble modulin) and cell wall components (e.g., peptidoglycan and alanylated lipoteichoic acid) which have been shown to be inflammatory [23]. While intramammary infection by E. coli is acute in nature and generally clears within a few days [24], infection by S. aureus is often less severe but results in a chronic infection that can persist for a life time of an animal [8]. The reasons for these pathogen-related differences in the host immune defense might reside in factors contributing to the innate immune system [25]. Innate recognition of pathogen-associated molecular patterns (PAMP) is mediated by evolutionary conserved pattern recognition receptors (PRR) [26]. For example, TLR2 recognizes cell wall components of gram-positive bacteria [27], whereas TLR4 recognizes LPS from gram-negative bacteria [28]. A simultaneous recognition of different pathogens is also possible, although the type of signal and co-receptor may differ. TLR2 mRNA expression was shown to be higher in porcine mammary glands after inoculation with E. coli as well as in sows that developed clinical signs of mastitis than in the non-inoculated mammary glands of sows that remained clinically healthy [9]. However, in our study, we did not observe significant changes in TLR expression of PMEC after both pathogen challenges.
Declarations
Acknowledgements
The authors are grateful for the excellent technical support from Angelika Deike, Hannelore Tychsen and Anette Jugert. This research project was funded by the German Federal Ministry of Education and Research (BMBF) in the research program "FUGATO - Functional Genome Analysis in Animal Organisms", project "geMMA - structural and functional analysis of the genetic variation of the MMA syndrome" (FKZ0315138).
Authors' Affiliations
(1)
Institute for Genome Biology, Leibniz-Institute for Farm Animal Biology, Dummerstorf, Germany
(2)
Institute of Agricultural and Nutritional Sciences, Martin-Luther-University Halle-Wittenberg, Halle (Saale), Germany
(3)
Institute for Animal Hygiene, Animal Welfare and Livestock Ethology, University of Veterinary Medicine Hannover, Foundation, Hannover, Germany
Copyright
© Jaeger et al.; licensee BioMed Central. 2015
This is an Open Access article distributed under the terms of the Creative Commons Attribution License (http://creativecommons.org/licenses/by/4.0), which permits unrestricted use, distribution, and reproduction in any medium, provided the original work is properly credited. The Creative Commons Public Domain Dedication waiver (http://creativecommons.org/publicdomain/zero/1.0/) applies to the data made available in this article, unless otherwise stated.