Oral vaccination of wildlife using a vaccinia–rabies-glycoprotein recombinant virus vaccine (RABORAL V-RG®): a global review
Veterinary Research
2017
48:57
Received: 4 April 2017
Accepted: 6 September 2017
Published: 22 September 2017
Abstract
RABORAL V-RG® is an oral rabies vaccine bait that contains an attenuated ("modified-live") recombinant vaccinia virus vector vaccine expressing the rabies virus glycoprotein gene (V-RG). Approximately 250 million doses have been distributed globally since 1987 without any reports of adverse reactions in wildlife or domestic animals since the first licensed recombinant oral rabies vaccine (ORV) was released into the environment to immunize wildlife populations against rabies. V-RG is genetically stable, is not detected in the oral cavity beyond 48 h after ingestion, is not shed by vaccinates into the environment, and has been tested for thermostability under a range of laboratory and field conditions. Safety of V-RG has been evaluated in over 50 vertebrate species, including non-human primates, with no adverse effects observed regardless of route or dose. Immunogenicity and efficacy have been demonstrated under laboratory and field conditions in multiple target species (including fox, raccoon, coyote, skunk, raccoon dog, and jackal). The liquid vaccine is packaged inside edible baits (i.e., RABORAL V-RG, the vaccine-bait product) which are distributed into wildlife habitats for consumption by target species. Field application of RABORAL V-RG has contributed to the elimination of wildlife rabies from three European countries (Belgium, France and Luxembourg) and of the dog/coyote rabies virus variant from the United States of America (USA). An oral rabies vaccination program in west-central Texas has essentially eliminated the gray fox rabies virus variant from Texas with the last case reported in a cow during 2009. A long-term ORV barrier program in the USA using RABORAL V-RG is preventing substantial geographic expansion of the raccoon rabies virus variant. RABORAL V-RG has also been used to control wildlife rabies in Israel for more than a decade. This paper: (1) reviews the development and historical use of RABORAL V-RG; (2) highlights wildlife rabies control programs using the vaccine in multiple species and countries; and (3) discusses current and future challenges faced by programs seeking to control or eliminate wildlife rabies.
1 Introduction
Globally, rabies is a neglected zoonotic disease of significant public health importance caused by enveloped single negative-stranded, negative-sense RNA viruses in the genus Lyssavirus, family Rhabdoviridae. Lyssaviruses are perpetuated by low level transmission within susceptible mammalian reservoir species populations, primarily meso-carnivores and bats. Currently, rabies virus is recognized as the most important lyssavirus species, given its high disease burden (i.e., mortality rate) among humans, domestic animals and wildlife. Rabies viruses cause acute, fatal encephalitis in mammals. Rabies is distributed widely on all continents except Antarctica and demonstrates both host species and geographic variation in viral genetics [1]. Preventing human rabies deaths requires a combination of approaches. The first steps to prevention are education about avoiding contact with suspect rabid animals, wound washing if exposure occurs, and provision of pre- and post-exposure rabies prophylaxis. Vaccination of domestic pets and livestock provides an added layer of protection. Finally, oral rabies vaccination (ORV) of wildlife limits and prevents the spread of rabies virus among terrestrial meso-carnivore populations and reduces risks of spill-over infections into domestic animal and human populations [2].
Prior to ORV development, wildlife rabies control measures consisted largely of eliminating or reducing reservoir wildlife populations through localized and targeted hunting, trapping, or poisoning [3]. However, these methods became controversial in some areas due to animal rights concerns and perceived negative impacts on biodiversity. Further, these approaches are labor intensive, may only control small-scale outbreaks, and in some instances were ecologically and economically questionable [4]. A more efficient and cost-effective wildlife rabies control strategy was needed.
Oral immunization of wildlife reservoirs was first considered as a potential approach to rabies control in the 1970s after genetic manipulation of rabies viruses under laboratory conditions yielded less virulent forms. Later biotechnology advances produced a recombinant vaccinia vector expressing the rabies virus glycoprotein gene [5]. An international collaboration of scientists leveraged these developments as they searched to find an efficient and cost-effective wildlife rabies control approach in the United States of America (USA) [6] and in Europe [7]. Early work focused on bait delivery to caged wildlife [8] and the first ORV field trial occurred in October 1978 in Switzerland using an attenuated rabies virus vaccine derived from the Street Alabama Dufferin (SAD) strain inserted in chicken head-baits [9]. Afterwards, large-scale ORV field trials targeting foxes were conducted in multiple European countries to control endemic fox rabies using a SAD-derived attenuated rabies vaccine ("standard" or SAD-B19 strain) [9].
Wide-spread environmental distribution of such attenuated rabies virus vaccines in oral baits, although effective, remains controversial in some countries. Some attenuated rabies virus vaccines retain residual pathogenicity for both non-target species, such as rodents and nonhuman primates, and target species (notably, striped skunk, Mephitis mephitis) [10–12]. Furthermore, attenuated rabies virus strains may retain pathogenicity for humans, posing a risk to those inadvertently contacting such vaccines. Thus, people exposed to SAD-derived attenuated vaccines or other attenuated rabies viruses should receive standard rabies post-exposure prophylaxis consisting of rabies immune globulin and vaccine [13].
Attenuated oral rabies vaccines for wildlife may also be limited in effectiveness due to the limited thermostability of RNA viruses [14] and inefficient or variable efficacy of oral immunization in some target species, notably major rabies reservoirs in North America, such as the raccoon (Procyon lotor) [15, 16] and striped skunk [10, 17]. Therefore, the global need for safer and more effective vaccines for ORV led to the development of the first recombinant candidate (a vaccinia–rabies recombinant vectored virus) licensed both in Europe and the USA to reduce the transmission of rabies virus within wildlife populations.
RABORAL V-RG® (RABORAL V-RG® is a registered trademark in the USA and elsewhere of Merial, Inc., which is now part of Boehringer Ingelheim) is one of two oral vaccine bait products recommended by the World Health Organization for wildlife rabies control.
RABORAL V-RG is a recombinant virus shown to be safe and effectives in reducing rabies virus transmission in wildlife [18]. RABORAL V-RG has been in continuous use since 1987 when it was first field tested in foxes in Belgium [19]. Thereafter, approximately 250 million doses have been distributed globally. This paper reviews the process development and biological properties of the V-RG vaccine, summarizes field experiences using RABORAL V-RG in multiple species and countries, and considers current and future challenges to successful use of ORV for wildlife rabies control and prevention.
2 Main characteristics of RABORAL V-RG
4 Immunogenicity and efficacy in controlled laboratory trials
5 Effectiveness of RABORAL V-RG in the field
5.1 Europe
The large western European epizootic of rabies in red foxes (> 75% of reported rabies cases) experienced during the 1980s which spurred the development of ORV campaigns in Europe most likely originated from the Russian-Polish border in 1935 [77, 101]. The first large scale ORV field trial targeting red foxes occurred during 1978 in Switzerland and used the SAD attenuated strain of rabies virus in edible baits placed at fox dens [7]. This pivotal trial was soon followed by ORV use in other western European countries. Most campaigns were performed during spring to target adult foxes mainly when population density was lowest (whelping takes place during early spring) and again in autumn (September–October) to reach both adults and young foxes when they begin to disperse.
RABORAL V-RG was licensed for use in the red fox in France in 1995 and in Belgium and Luxembourg in 1996. From 1989 to 2005, approximately 10.5 million RABORAL V-RG doses were distributed targeting red foxes which contributed to the elimination of terrestrial rabies cases in these countries. Additionally, since 2006 more than 30 million doses of RABORAL V-RG have been distributed in the Ukraine. The effectiveness, utility, safety and genetic stability of RABORAL V-RG were first demonstrated in western Europe. Early fox ORV campaigns identified key program variables (e.g., line spacing and bait density) as well as addressed concerns about environmental release of a genetically modified vaccine.
5.2 North America
Wildlife rabies prevention programs were implemented in North America as rabies outbreaks emerged near population centres in eastern Canada and the Atlantic coast of the USA. The first Canadian oral rabies vaccine program began during 1989 targeting foxes with attenuated ERA rabies virus-filled baits [24]. In parallel, the USA began evaluating the potential use of a vaccinia-vectored recombinant vaccine bait (a precursor to the current commercial product) in raccoons during 1990 in response to a raccoon rabies outbreak which emerged during the mid-1970s following suspected translocation of infected raccoons from an enzootic region (Florida, Georgia, eastern Alabama, and southern South Carolina, USA) to western Virginia and southern West Virginia, USA [16, 111–113].
Raccoon rabies virus variant continued to spread through New England and into upstate New York with the first reported rabid raccoon in Canada detected in Ontario during 2009. North American scientists and government agencies decided to address rabies outbreaks along international borders [i.e., Canada (raccoon variant) and Mexico (canine variant)] thus leading to the formation of the North American Rabies Management Plan. The plan was signed during October 2008 by representatives of the USA, Canada, Mexico and the Navajo Nation pledging to address wildlife rabies across international boundaries and disciplines [114]. As of this writing, wildlife rabies control programs using ORV continue annually in Canada and the USA, where meso-carnivores and bats are the primary reservoirs of public health concern, while Mexico is focused on control and elimination of canine rabies through dog vaccination campaigns and monitoring and controlling the emerging threat of vampire bat rabies.
5.2.1 United States of America
Multiple wildlife species (e.g., raccoons, skunks, foxes and bats) are potential reservoirs of rabies for both humans and domestic animals in the USA [78]. Terrestrial species-associated rabies virus variants occur in distinct geographic areas: raccoon rabies virus variant in the eastern USA, skunk rabies virus variants in the central USA and California, fox rabies virus variants in Texas, Arizona, New Mexico and Alaska, and dog-mongoose rabies virus variants in Puerto Rico [78].
The first USA-based V-RG field trial occurred during August 1990. Prototype cylindrical fishmeal baits containing V-RG and tetracycline biomarker were distributed by hand at a high density (1000 baits/km2) on a barrier island (Parramore Island, Virginia) to determine if an isolated population of free-ranging raccoons could be effectively vaccinated by the oral route and to monitor for potential adverse vaccine effects in target and non-target species [38]. Thirty days later evidence of tetracycline biomarker was detected in bone samples of 47/56 (84%) raccoons in the vaccination area [85]. In addition, RVNA were detected in 57% of raccoons [38]. No adverse effects or orthopoxvirus-like lesions were observed in raccoons or other observed non-target species [38]. Fourteen of 18 raccoons collected from the island survived a rabies virus challenge 7 months after consuming the experimental baits. All surviving raccoons and three of the four not surviving challenge were biomarker positive [38].
Subsequently, a second safety study was conducted on State Gamelands #13, in Pennsylvania during 1991 [115] and a third safety and initial field effectiveness trial followed in Cape May, New Jersey during 1992 to 1994 against an advancing raccoon rabies epizootic front [49].
Over the next 10 years, ORV campaigns targeting raccoons were implemented by a number of state or county agencies in Massachusetts, Florida, New York, Vermont, Ohio, New Jersey, and Maryland [40, 49, 113, 116–118]. RABORAL V-RG was approved for use in raccoons in 1997 as a United States Department of Agriculture (USDA) licensed veterinary vaccine. A federal cooperative ORV program began in 1998 led by USDA-Wildlife Services to coordinate ORV efforts already underway in Ohio and Vermont, and participate as a primary co-operator in the state-led Texas ORV programs to ensure harmonization with national rabies management objectives (i.e., preventing wildlife rabies from spreading into naïve areas of the USA). Northern New York was added to the federal program in 1999, with Cornell University leading initial coordination efforts. The raccoon ORV program's goal of preventing the variant from spreading westward supported expansion into to Pennsylvania; West Virginia; eastern Tennessee, Alabama and Georgia; and North Carolina to prevent the endemic rabies variant from spreading westward beyond the Appalachian Mountains. ORV zones were expanded into New England to mitigate risks of raccoon rabies spreading north to Canada.
The federal program integrated natural terrain features (e.g., rivers, lakes, and poor raccoon habitat along mountain ridges) as anchor points for ORV zones from the Ohio shore of Lake Erie south into central Alabama below Birmingham. Vaccine-filled baits were distributed once a year (August–September) in campaigns at a target density of 75 baits/km2 using airplanes, helicopters and hand placement of baits to create vaccination zones of at least 40 to 50 km in width [119]. In addition, contingency response actions have been used to maintain the integrity of established ORV zones against new outbreaks, such as in 2004 in northeast Ohio between the established ORV zone and the eastern suburbs of Cleveland [120, 121]. Contingency actions consisted of added features (e.g., more than one ORV baiting/year, higher density baiting or trap-vaccinate-release (TVR) of raccoons using inactivated rabies vaccine, or combinations of these methods) to bolster the effectiveness of ORV zones [119, 122, 123].
Decades of field experience have proven that many variables affect the field effectiveness of an ORV programs for any particular species. However, optimizing and evaluating raccoon ORV programs has proven particularly challenging due largely to the diversity of habitats where raccoons and rabies management occurs as, well as the complexity and the adaptability of this species to thrive at varying population densities across large geographic areas affected by raccoon rabies. The expanse and heterogeneity of raccoon habitats and other factors (e.g., presence of skunks in raccoon variant endemic areas) contribute to the challenge of achieving the USA strategic goal of stopping the spread and eventually eliminating raccoon rabies at the local, regional and national level [122]. Currently, ORV campaigns in the USA typically distribute baits once annually in the fall, typically at a target density of 75 baits/km2 in rural areas and at 150 baits/km2 in urban and more developed areas.
For these large-scale programs in the USA, RVNA serology has been an important tool for evaluating success of ORV campaigns for reaching raccoon populations. During the 2008 to 2011 period, using blood samples collected 4 to 12 weeks post-baiting, the proportion of raccoons reported with RVNA ≥ 0.05 IU/mL ranged annually from 29% ± 14% to 37% ± 17%, with wide variation in ranges [122, 123]. Median raccoon age was 1 year, underscoring the likely importance of baiting in late summer or early fall to target juvenile raccoons that may disperse, as the mortality from rabies in this cohort may be relatively high [122].
Antibody levels peak in raccoons at 4 to 6 weeks after oral rabies vaccination and then decline [38, 123]. Thus, observed seroprevalence rates from samples collected after 6 weeks post-baiting may incompletely reflect existing population-level immunity [123]. Despite declines in detectable RVNA, raccoons that have been exposed to the vaccine may remain protected against rabies virus infection for months after vaccination [52]. Conversely, high RVNA seroprevalence in raccoon populations post-baiting may not extinguish rabies virus circulation sufficiently due to other demographic and ecological factors. For example, skunk populations are thought to contribute to rabies virus circulation in many raccoon rabies affected areas [86, 87].
Thus, interpretation of serologic surveys in raccoon populations post-baiting is difficult and may reflect a variety of programmatic (e.g., number of annual bait distributions, bait density, flight line spacing); demographic (e.g., raccoon density, rate of population turnover, migration rate) and ecological factors (e.g., urban versus rural habitat, presence of skunks, availability of competing foods and the presence of bait competitors). Baiting strategies to improve ORV bait uptake in raccoons have included varying bait densities [111], use of bait stations [124], and pulse or cluster baiting to potentially increase bait update by juveniles foraging in family groups [122].
RABORAL V-RG has been instrumental for control of coyote and gray fox rabies in Texas. During 1988 to 1994, 531 cases of canine variant rabies were reported in Texas (270 in coyotes and 216 in domestic dogs). The epizootic began in 1988 in South Texas, along the USA-Mexico border in unvaccinated dogs then coyotes, and expanded to include 18 contiguous counties [125]. The emergence of the canine variant in coyotes in South Texas and two associated human deaths prompted Texas to enhance state rabies control measures [125]. In 1995 an ORV program distributed RABORAL V-RG in an arc-shaped band over a 24-county area approximately 200 km north of Laredo, then as case numbers declined, baits were distributed annually progressively moving the vaccination zone southward toward the Rio Grande River, thereby decreasing the size of the rabies-infected area [83, 119, 125]. Baits targeting coyotes were distributed aerially along GPS transect lines at a density of 27 baits/km2. Subsequent annual ORV campaigns were conducted in winter (January) due to extreme heat in south and west-central Texas and the potential competition for baits from fire ants (Solenopsis invicta) during the summer. Decreased availability of food in the winter may increase consumption of baits by coyotes [125, 126].
Between 1995 and 2003, 70% of coyotes sampled in South Texas were tetracycline-positive and 56% had detectable RVNA [
83
]. After 2003, the coated sachet format replaced the fishmeal bait and serology alone was used for post-baiting monitoring. The number of rabies cases fell from 122 in 1994 (before ORV began) to 10 cases in 1999, illustrating the ORV program's effectiveness in coyotes (Figure
6
). Two rabid dogs were detected (1 in 2001 and another in 2004) near the USA border in Mexico; however, no domestic dog/coyote rabies virus variant cases have been detected since 2000 in South Texas [
126
] (Figure
6
). Today, the canine rabies is considered eliminated from the USA [
111
,
127
]. A barrier ORV zone 30 to 65 km wide using RABORAL V-RG is maintained along the Texas-Mexico border to reduce the risk of re-entry of canine rabies virus variant into the USA [
119
].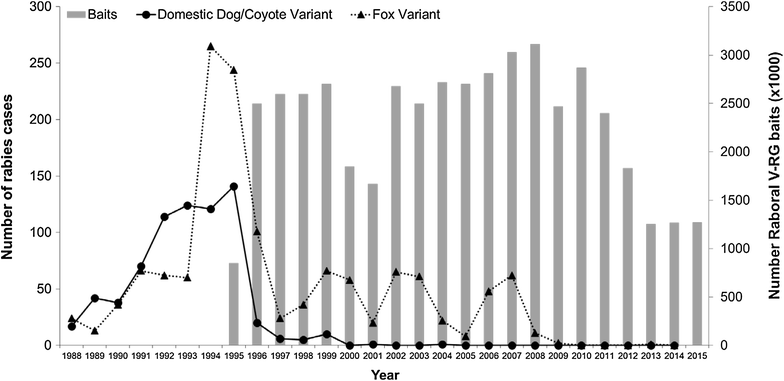 RABORAL V-RG has also been experimentally applied to control-rabies in gray fox populations in Texas. From 1988 to 1995, 764 cases caused by a gray fox rabies virus variant were reported from Texas (411 in gray foxes) [83]. The epizootic began in west-central Texas and expanded to 46 contiguous counties in the west-central part of the state [83]. During 1996, an ORV program was initiated by encircling the epizootic area with a 32 km-wide ORV zone with an added 16 to 24 km vaccination buffer along the northern and eastern edges bordering dense human populations [119].
Between 1996 and 2003, 39% of gray foxes sampled for post bait-distribution monitoring were tetracycline-positive and 62% of gray foxes had RVNA ≥ 1:5 [83]. During 2012, RVNA were detected in 93% of gray foxes in West Texas after ORV [126]. Rabies cases in gray foxes decreased from 244 in 1995 (before the first ORV program) to 11 in 2008 [127]. One rabid fox was reported in 2009 and another case (in a cow) in 2013 [84]. As of this writing, there have been no additional cases of gray fox variant rabies reported in Texas [84] (Figure 6). During 2014, the ORV fox program in west-central Texas was limited to a contingency zone placed around the 2013 case [84]. From 1995 to 2014, more than 46 million RABORAL V-RG baits have been distributed in Texas rabies control and elimination campaigns in coyotes and gray foxes [128].
In the USA, rabid skunks also represent a significant public and animal health concern and pose unique challenges to disease control efforts. Skunks are a common non-target species observed during ORV programs targeting raccoons, coyotes and gray foxes. As with raccoons, several factors may affect successful ORV bait uptake in skunks, but generally skunks have demonstrated lower seroconversion rates in post-baiting monitoring compared to sympatric target species (e.g., a maximum estimate of 11% of skunks versus 32.8% of raccoons after distribution of RABORAL V-RG coated sachets at 75 baits/km2; [111, 129]), despite laboratory evidence that skunks mount an antibody response to ORV [88, 89] and tetracycline biomarker evidence that skunks do find and ingest vaccine-baits in the field setting [32].
Poor vaccine uptake from current bait and packaging formats may be one of the primary reasons for the low serological responses observed in skunks exposed to ORV in the field setting. Inefficient oral uptake of liquid rabies vaccines released from baits during manipulation by skunks has been observed in the captive setting [89]. While V-RG effectively protected four of six skunks from rabies virus challenge when delivered by direct instillation, administration of the same vaccine dose in the current commercial bait did not result in seroconversion or protection against challenge, presumptively due to insufficient ingestion of the liquid vaccine [89].
Compared to other ORV target species, skunks have a smaller mouth and a tendency to nibble rather than bite or gulp food, which may increase spillage of the vaccine from baits during manipulation and reduce exposure of pharyngeal tissues to the vaccine [89]. In the field setting, skunks tend to be more sedentary and have smaller home ranges than raccoons and these traits may present a barrier to vaccine uptake through reduced physical access to baits [130]. Effective application of ORV to control skunks rabies virus variants may require new baits designed for the anatomy and unique feeding behaviours of this species, as well as optimization of bait distribution strategies to increase bait discovery and uptake [31, 32].
RABORAL V-RG was conditionally licensed in the USA for raccoons in 1994 with a full license granted after proof of field effectiveness in 1997 and a coyote claim added in 2002 [30]. As of this report, RABORAL V-RG continues to be used experimentally in gray foxes and was evaluated in skunks from 2013 to 2015 in Texas.
5.2.2 Canada
As in the USA, rabies virus variants in Canada circulate in geographically limited areas and are associated with specific primary reservoir species (primarily red foxes, raccoons, skunks and bats), including recent incursions of arctic fox variant into red fox populations in Canada since the late forties [131]. Wildlife rabies is controlled in Canada similarly to the USA through reservoir population management (i.e., point infection control approaches) and ORV distribution [131]. Raccoon rabies emerged as a problem in this region as the outbreak in the USA progressed north, but incursion into Canada has been limited by aggressive management. However, as long as the north-eastern USA remains endemic for raccoon rabies the eastern international border between the USA and Canada remains a high-risk area for re-introduction of raccoon rabies virus variant. Skunks are a primary rabies reservoir in the western Manitoba, Saskatchewan, and Alberta and outbreaks are occasionally documented, but the dominant public health concern of rabies resides in the human population centres in eastern Canada [131].
From 1985 until 2004 wildlife rabies was prevented in Canada using an attenuated ERA strain (Evelyn-Rokitnicki-Abelseth [23]) of rabies virus as a vaccine to control fox rabies outbreaks primarily in Ontario [132]. The first raccoon rabies cases were detected in eastern Ontario during 1999 [133]. A point infection control strategy was employed which integrated population reduction, trap-vaccinate-release and ORV. The initial operation included concentric control zones: an inner 5-km population reduction zone, a middle 5 km trap-vaccinate-release zone and an outer 8 to 15 km ORV zone. Approximately 81 300 V-RG baits were distributed aerially at a target density of 70 baits/km2 in September 1999. However, 35 raccoon rabies cases were detected in the control and vaccination zones within 1 year [133]. Using this intensive approach, the raccoon rabies virus variant was contained and eliminated from Ontario in 6 years, despite the outbreak occurring in areas with relatively high raccoon densities and complex landscapes. The last raccoon rabies case of this first incursion was detected in September 2005 [31, 119].
Nearly concurrently, an outbreak of raccoon rabies also occurred on Wolfe Island, Ontario during 1999. A point infection control response was used during 2000 to control this outbreak, including application of trap-vaccinate-release during 2001 to 2002 and ORV using RABORAL V-RG baits aerially distributed at a density of 75 or 150 baits/km2 during 2000 and again from 2003 to 2005. No rabies cases were detected on the island since January 2000 [134].
During the response to these initial raccoon variant outbreaks in Canada, more than 3 million RABORAL V-RG baits were aerially or hand-distributed in an approximate 4000 to 9000 km2 area of eastern Ontario at a density of 75 or 150 baits/km2 from 1999 to 2006 [31]. Most of the doses (≈90%) were considered to be experimental as they were manufactured with bulk V-RG vaccine filled into baits manufactured in Canada (Ontario Slim bait, Artemis Technologies Inc., Ontario, Canada). A smaller portion of baits used in Ontario were the commercial serials of RABORAL V-RG coated sachet and FMP baits (i.e., commercially acquired products produced fully in the USA).
In post-distribution surveillance, bait uptake (as measured by tetracycline biomarker) by raccoons was significantly higher in areas baited at a density of 150 baits/km2 compared to 75 baits/km2, in areas that applied a flight line spacing of 0.75 km rather than 1.5 km and when bait distribution occurred in September rather than in June [30]. Bait acceptance was also higher in adults than juveniles at the lower bait density. Seropositivity rates in raccoons were determined using a competitive enzyme linked immunosorbent assay (ELISA) test assigned a threshold of positivity equivalent to 0.5 IU/mL ranged from 7 to 28% and from 10 to 27% in areas baited at 75 and 150/km2, respectively [31].
However, skunk bait acceptance and antibody response in this same study were both lower than for raccoons [31]. A palatability study testing different shapes and flavours of baits by captive striped skunks has shown that the uptake rate of the Canadian bait used to deliver V-RG was low (13 to 17%) compared to the FMP (45%) and coated sachet (42%). The waxy texture of the bait appeared to make chewing difficult for this species. In this evaluation the most effective bait format was the fish-crumble coated sachet in terms of uptake and sachet puncture. A reduced bait sachet size was proposed as a product improvement which may allow skunks to more easily puncture the vaccine container [135, 136].
Beginning in 2006 a replication-competent human adenovirus vaccine, ONRAB®, developed by the Ontario Ministry of Natural Resources, replaced RABORAL V-RG as the primary vaccine used in ORV programs in Ontario and Quebec to address remaining cases of raccoon rabies virus variant circulating in Canadian raccoon and skunk populations [136]. Integrative management efforts continue to be used in eastern Canada to prevent re-introduction of the raccoon rabies virus variant from endemic areas in the USA. Between 1999 and 2007, 132 cases of raccoon rabies virus variant (130 raccoons, 2 striped skunks) were reported in eastern Ontario. The last reported raccoon variant case from the 1999 incursion occurred in September 2005 [137]. Subsequently, Ontario remained raccoon variant free for 10 years before raccoon rabies was detected again in a border region near Vermont during December 2015. As of February 2017, there were six fox variant and 282 raccoon variant cases reported in Ontario associated with this re-emergence of rabies [137].
5.3 Israel
During 1950 to 1970, golden jackals were the major reservoir of wildlife rabies in Israel [92, 138]. Rabies was mainly urban in distribution in dog populations before 1958 [138, 139]. From the mid-seventies, Israel experienced a major transition from urban dog rabies to sylvatic fox rabies, with a significant increase in cases. Foxes became the primary rabies reservoir in Israel during 1988 to 1997, accounting for 49% of all rabies cases during this period [138]. After three human rabies cases in 1996 to 1997, and an increase in animal rabies, the Veterinary Services and Nature and Parks Authority decided to initiate an ORV in wildlife [139, 140].
An ORV program was begun during the fall of 1998 in the heavily affected northern region, and then extended progressively to the majority of the country, as well as the West Bank in 2004 (in total 21 000 km2). During 1998 to 2004, RABORAL V-RG FMP baits were distributed in autumn and spring at a density of 14 to 19 baits/km2 by helicopters or light airplanes over uninhabited areas, with hand distribution in urban areas [139, 140]. During 1999 to 2004, 54.4% (43.1 to 75.7%) of jackals and foxes were tetracycline positive and 29.5% (14.0 to 66.6%) had detectable RVNA. Monitoring of bait uptake through tracking stations showed that 40 to 90% of the baits were removed during the first night. Rabies prevalence decreased sharply from 70 cases in 1998 to 3 cases in 2003 and 2004, after the first year of baiting in the rural northern Israel and the southern desert. All rabies cases detected in these areas during 2002 to 2004 were located on the border of the vaccinated areas. A decrease in rabies prevalence was observed after 2 years of ORV (a total of 4 vaccination campaigns) in the narrow urban zone located along the central coastal part of Israel adjacent to the West Bank, with 59 rabies cases in 2002, and 25 cases in 2004 [139].
ORV campaigns have been conducted annually throughout Israel since 2004. After several years of ORV, the vast majority of Israel (90%) is currently free of carnivore rabies virus variants. In 2012, two jackals and one fox were reported rabid; in 2013, there was a single rabid jackal case, and in 2014, there was a rabid jackal and a fox case [
141
] (Figure
7
). However, while wildlife rabies remains under control, a new canine (dog) rabies virus variant, which originated from Turkey, emerged in the northern area of Golan Heights since 2004 [
142
]. To prevent this canine rabies virus variant from spreading, dog vaccination campaigns have been implemented in high risk regions of the country. Surveillance of rabies cases continues with spill-over cases documented in domestic animals and occasionally wildlife.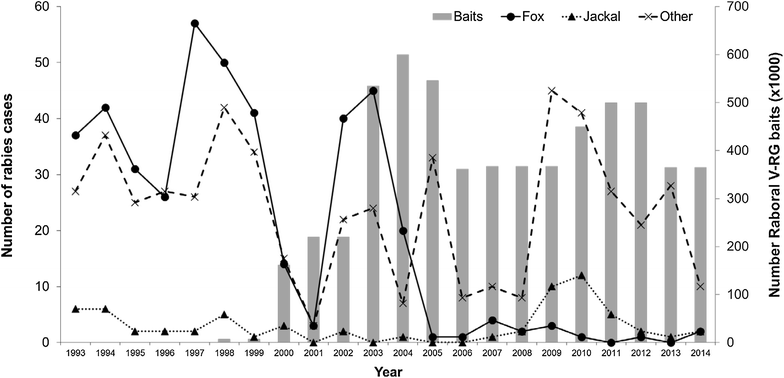 6 Conclusion
Rabies epizootics in western Europe (red fox) and North America (raccoon, coyote and gray fox) urgently drove the real-time development and licensing of wildlife rabies vaccines on both continents. RABORALV-RG was a technological breakthrough vaccine in 1984, brought to fruition under circumstances supportive of international collaborations focused on protecting public health and well-being. The poxvirus vectored recombinant rabies vaccine (V-RG) provided a novel vaccine technology that met the challenges of orally vaccinating wildlife and has been used for this purpose since 1987. This recombinant live-vectored vaccine was tested extensively for environmental release to ensure the construct was stable genetically, safe in target and non-target species, and effective in preventing the spread of rabies virus in targeted animal populations. Today, the concept of immunizing wildlife with an oral vaccine is well accepted globally as an important component of a holistic rabies management program to create an additional layer of protection for domestic animals and humans and prevent the spread of rabies virus from infected reservoirs.
Nearly three decades of wildlife rabies prevention efforts in Europe and North America have demonstrated the value of oral rabies vaccines as tools for controlling outbreaks and mitigating rabies risks to humans, domestic animals and wildlife. As a tenacious ancient foe, the rabies virus will continue to adapt and perpetuate within wildlife populations. In combination with other approaches, the public health and agricultural impact of rabies can be mitigated and user some circumstances eliminated through the judicious use of effective oral rabies vaccines, such as RABORAL V-RG.
Abbreviations
cDNA:

complementary deoxyribonucleic acid
ELISA:

enzyme linked immunosorbent assay
ERA:

Elizabeth Rokitnicki Abelseth; a rabies virus strain derived from the Street Alabama Dufferin rabies virus strain
FMP:

fishmeal polymer block bait
G-protein:

glycoprotein
GPS:

global positioning system
i.d.:

intradermal
i.m.:

intramuscular
ONRAB® :

Ontario rabies vaccine bait
ORV:

oral rabies vaccine/vaccination
p.o.:

per os (oral installation)
PCR:

polymerase chain reaction
PFU:

plaque forming units
RVNA:

rabies virus neutralizing antibodies
s.c.:

subcutaneous injection
SAD:

Street Alabama Dufferin rabies virus strain
SAD-B19:

Street Alabama Dufferin B19; an attenuated rabies vaccine derived from the SAD (Street Alabama Dufferin) rabies virus strain
SAG1:

SAD (Street Alabama Dufferin) Avirulent Gif 1; an avirulent mutant rabies virus vaccine
SAG2:

SAD (Street Alabama Dufferin) Avirulent Gif 2; a double avirument mutant rabies virus vaccine
TCID50 :

tissue culture infective dose 50%
TK:

thymidine kinase
USDA:

United States Department of Agriculture
V-RG:

recombinant vaccinia virus vector vaccine expressing the rabies virus glycoprotein gene
Declarations
Competing interests
JM, CS, AW, declare that they have competing interests as employees of Boehringer Ingelheim Animal Health, the manufacturer of RABORAL V-RG. EWL, EHO, and ALG were paid by Merial, Inc. or Boehringer Ingelheim Animal Health as contractors for their work on manuscript preparation but are not employees of Boehringer Ingelheim Animal Health. All other authors declare that they have no competing interests.
Authors' contributions
ALG wrote the first draft. JM and EWL revised and formatted the first draft and compiled edits. JM, ALG, MA, BB, FC, CAH, RK, EHO, CER, CS, DS, BY, AW, EWL contributed to revising the manuscript. All authors read and approved the final manuscript.
Acknowledgements
The authors thank the many people who have generated laboratory and field data, studied, produced, distributed and assessed ORV programs using RABORAL V-RG as well as those who have dedicated their time and talents to supporting wildlife rabies control through fostering government program funding and policy.
This review is dedicated in memorium to several pioneers who conceived and produced foundational work establishing the use of RABORAL V-RG for oral rabies vaccination of wildlife as an effective public health measure: George Baer, Jean Blancou, Hilary Koprowski, Eric Masson, Paul-Pierre Pastoret, and Tadeusz Jan Wiktor. The body of work described in this paper would not have been possible without their contributions.
Disclaimer
These data are provided for informational purposes only and are not intended to support off-label use.
Publisher's Note
Springer Nature remains neutral with regard to jurisdictional claims in published maps and institutional affiliations.
Open AccessThis article is distributed under the terms of the Creative Commons Attribution 4.0 International License (http://creativecommons.org/licenses/by/4.0/), which permits unrestricted use, distribution, and reproduction in any medium, provided you give appropriate credit to the original author(s) and the source, provide a link to the Creative Commons license, and indicate if changes were made. The Creative Commons Public Domain Dedication waiver (http://creativecommons.org/publicdomain/zero/1.0/) applies to the data made available in this article, unless otherwise stated.
Authors' Affiliations
(1)
Boehringer Ingelheim Animal Health, Athens, USA
(2)
Conseils en Pharmacie et Biologie, Lyon, France
(4)
Institut Scientifique de Santé Publique, Service Maladies Virales, Laboratoire National de la rage, Direction Opérationnelle Maladies Transmissibles et Infectieuses, Brussels, Belgium
(5)
ANSES-Nancy Laboratory for Rabies and Wildlife, European Union Reference Laboratory for Rabies, WHO Collaborating Centre for Research and Management in Zoonoses Control, OIE Reference Laboratory for Rabies, European Union Reference Laboratory for Rabies Serology, Technopôle agricole et vétérinaire de Pixérécourt, Malzéville, France
(6)
Centers for Disease Control and Prevention, Rabies Team Lead, Atlanta, USA
(7)
Israel Nature and Parks Authority, Jerusalem, Israel
(9)
The Wistar Institute, Philadelphia, USA
(10)
Boehringer Ingelheim Animal Health, Lyon, France
(11)
USDA-Wildlife Services, Concord, USA
(12)
Rabies Department, Kimron Veterinary Institute, Bet Dagan, Israel
(13)
LandCow Consulting, Madison, USA