Functional investigation of a QTL affecting resistance to Haemonchus contortus in sheep
Veterinary Research
2014
45:68
Received: 11 December 2013
Accepted: 4 June 2014
Published: 17 June 2014
Abstract
This study reports a functional characterization of a limited segment (QTL) of sheep chromosome 12 associated with resistance to the abomasal nematode Haemonchus contortus. The first objective was to validate the identified QTL through the comparison of genetically susceptible (N) and resistant (R) sheep produced from Martinik × Romane back-cross sheep. The R and N genotype groups were then experimentally infected with 10 000 H. contortus larvae and measured for FEC (every three days from 18 to 30 days post-challenge), haematocrit, worm burden and fertility. Significant differences in FEC and haematocrit drop were found between R and N sheep. In addition, the female worms recovered from R sheep were less fecund. The second step of the characterization was to investigate functional mechanisms associated with the QTL, thanks to a gene expression analysis performed on the abomasal mucosa and the abomasal lymph node. The gene expression level of a candidate gene lying within the QTL region (PAPP-A2) was measured. In addition, putative interactions between the chromosome segment under study and the top ten differentially expressed genes between resistant MBB and susceptible RMN sheep highlighted in a previous microarray experiment were investigated. We found an induction of Th-2 related cytokine genes expression in the abomasal mucosa of R sheep. Down-regulation of the PAPP-A2 gene expression was observed between naïve and challenged sheep although no differential expression was recorded between challenged R and N sheep. The genotyping of this limited region should contribute to the ability to predict the intrinsic resistance level of sheep.
Keywords
Worm BurdenFemale WormPure BreedHaemonchus ContortusAbomasal Mucosa
Introduction
The failure of anthelmintic drugs is an issue of major concern throughout the world, especially for the control of small ruminants nematodes such as Haemonchus contortus[1]. Breeding animals with a better ability to resist infection by gastro-intestinal nematodes (GIN) has been proposed as an alternative strategy to drug treatment, and has already been implemented in Australia and New-Zealand [2, 3].
This selection relies on the existing between-animal variation in the acquired immune response against GIN [4] which is mostly related, in murine models or in the sheep, to mounting an efficient Th-2 biased immune response driven by the IL4, IL5 and IL13 cytokines [5–7]. The humoral profile associated with this Th2 response involves IgA, IgG and IgE antibodies that control larval colonization, worm development and fecundity [5, 8, 9]. However, an innate component is also involved in the anti-nematode response. For instance, recent findings suggest that lectins contribute to entrapping worms in a mucus sheath, and would subsequently facilitate their elimination [10, 11]. A previous microarray experiment comparing gene expression levels in resistant Martinik (MBB) and susceptible Romane (RMN) sheep infected by H. contortus found a stronger induction of Th2-related cytokines and also of lectin genes in MBB [12].
Numerous genetic mapping studies have identified regions of the genome explaining a non-negligible part of the inter-individual variation (known as Quantitative Trait Loci, QTL) in resistance to nematode infection [13–19]. The use of the ovine-specific DNA SNP chip showed that resistance to nematodes was determined by many genes with weak effect and some limited regions explaining a higher proportion of the genetic variation [17, 19]. Candidate gene approaches have been carried out for the interferon gamma [20–22] and the major histocompatibility complex loci [23–26], although none of the other regions identified by genetic mapping strategies have been mined further. Identifying the mutations controlling ovine resistance to H. contortus should improve the ability to perform genetic selection by directly targeting the genes of interest through marker-assisted selection.
In a previous QTL mapping study for resistance to Haemonchus contortus, Sallé et al. found five QTL of greater interest on OAR5, 7, 12, 13 and 21 that affected Faecal Egg Count (FEC) and other parameters measured in a 1000 Martinik Black-Belly × Romane (MBB × RMN) back-cross (BC) lamb population [19]. A QTL region on OAR12, between 47 and 56 Mbp, explained 4% of observed variation in FEC at first and second infection and was detected in two different subsets of back-cross sheep and three independent sheep populations (Sarda*Lacaune [27], Merino [13] and in a free living Soay sheep population [14]). The purpose of this study was to perform a functional validation of this QTL region. Based on the within-family QTL detection results, some BC sheep were selected to produce BCxBC progeny that would carry two alleles associated with resistance or two alleles associated with susceptibility. BCxBC progenies were subsequently selected based on their genotypes for the investigated QTL and submitted to an exhaustive parasitological and haematological data collection. A gene expression study on the top ten differentially expressed genes between resistant MBB and susceptible RMN sheep highlighted in a previous microarray experiment [12] and on a candidate gene lying within the QTL region was also performed.
Results
Phenotypic comparison of the R and N sheep
The average gEBV of the R and N groups were equivalent (p = 0.34) hence allowing a standardized comparison of their QTL genotype.
A selection of parasitological and haematological data for the two groups is provided in Table
3
(the complete list of recorded traits and associated statistics are provided in Additional file
4
). The 4-SNP-based clustering of the BCxBC sheep allowed prediction of true "high-" and "low-FEC" sheep, as illustrated by the 601 eggs/g and 11546 eggs/g difference obtained between the R and N groups at 18 and 30 dpi (
p
 = 0.02 and 0.01 respectively in both cases, Table
3
). Further, the 4-SNP genotype was associated with strong differences in the length and fertility of female worms (Table
3
). Female
H. contortus
collected from R sheep were 1.6 mm shorter on average (
p
 = 0.0013) and showed 1.5 times fewer eggs in utero (
p
 = 5.10
-4
) than those recovered in N sheep (525 and 358 eggs in utero/female for the N and R groups respectively, Table
3
). These parasitological findings also correlated with the reduced blood loss at 14 and 27 dpi in R lambs (
p
 = 0.03), and a higher production of reticulocytes in the N lambs (Table
3
). However no significant differences were observed for WB between the two groups (
p
 = 0.73). From a production perspective, no differences of growth rates could be found between the two groups (
p
 = 0.23).
Table 3
Phenotypic comparison of R and N sheep
Trait

R

N

p-value

Phenotypic difference (σp)

Mean

Std

Mean

Std

FEC18 (eggs/g)

126

289

727

1153

0.02

-0.70

FEC21 (eggs/g)

1160

1813

3865

3705

0.06

-0.54

FEC24 (eggs/g)

3874

3031

6968

5233

0.19

-0.37

FEC27 (eggs/g)

5798

4075

9150

6422

0.11

-0.44

FEC30 (eggs/g)

13213

8286

24759

17730

0.01

-0.70

WB (no. worms)

4084

1885

4395

1267

0.73

0.10

FL (in mm)

18.7

1.4

20.3

1.6

0.0013

-0.95

FF (no. eggs in utero)

358

112

525

182

0.0005

-1.03

HCT14 (%)

34.2

3.2

31.9

3.5

0.02

0.53

HCT27 (%)

30.3

3.4

27.5

3.3

0.01

0.65

RET27 (%)

0.173

0.200

0.816

1.009

0.01

-0.77

ADG (kg/day)

0.109

0.045

0.137

0.049

0.23

-0.59
Testing for differential gene expression
The gene expression profiles of each Ri and Ni as well as their respective control, Ru and Nu, are shown in Table
4
, Figures
2
and
3
. C
T
values for each measured gene are provided in Additional file
3
.
Table 4
Differential expression of the selected gene set in abomasal mucosa (AFM) and draining lymph node (ALN)
Tissue

Gene

FC Ri vs Ni

FC Ri vs Ru

FC Ni vs Nu

FC Ru vs Nu

AFM

IL4

4.07*

2.22

0.54

1.16

IL13

4.51**

4.79*

1.06

0.93

IFNγ

0.83

1.13

1.36

1.47

TNFα

0.85

0.63

0.74

1.23

LGALS15

7.02

576*

82.0*

0.60

ITLN2

6.97

22.4

3.22

4.94

TFF3

1.61

6.86*

4.26

1.50

CCL26

Not tested in this tissue

TNFRSF4

Not tested in this tissue

CXCL14

Not tested in this tissue

PAPPA2

1.18

0.34

0.29*

1.08

ALN

IL4

1.22

2.33*

1.91

0.81

IL13

1.24

0.50

0.41

0.78

IFNγ

0.69

0.33**

0.48

1.08

TNFα

0.70*

0.62

0.88

1.12

LGALS15

Not tested in this tissue

ITLN2

Not tested in this tissue

TFF3

Not tested in this tissue

CCL26

1.65

1.13

0.69

0.87

TNFRSF4

0.68

0.59

0.87

1.11

CXCL14

1.45

1.56

1.08

0.44

PAPPA2

1.06

0.52

0.49*

0.88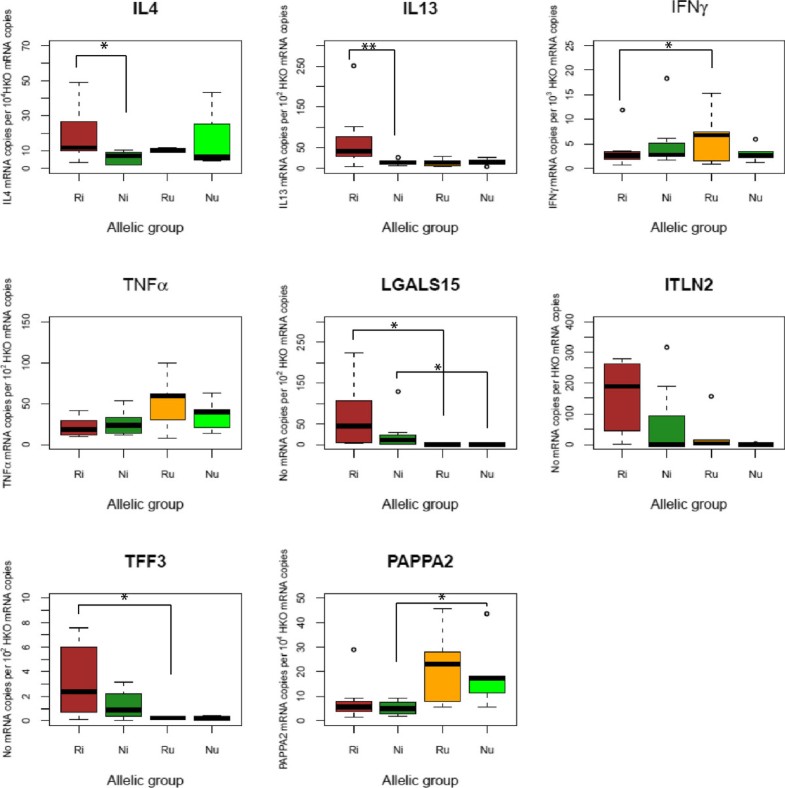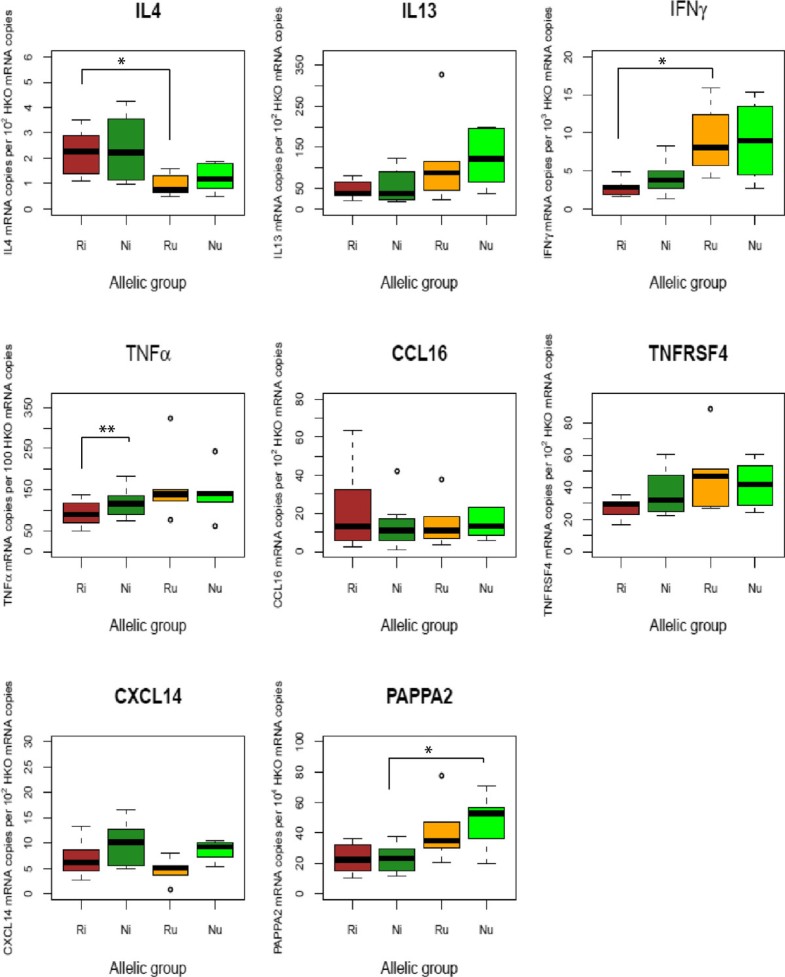 Among the annotated genes retrieved within a 2 Mbp region centred at 56.06 Mbp (Table 1), the pappalysin gene (PAPP-A2) was identified as a putative candidate due to its regulatory effect on IGF-1. This gene was found down-regulated in the Ni in comparison to their uninfected counterparts in both AFM and ALN (p = 0.02 and 0.05 respectively). However the similar down-regulation trend observed between Ri and Ru sheep was not significant (Table 4, Figures 2 and 3). Neither was the PAPP-A2 expression differential between Ri and Ni groups (Table 4, Figures 2 and 3).
Ru and Nu sheep gene expression levels were compared to test for differences of the basal expression pattern linked to the QTL genotype. However no significant nor suggestive differences in gene expression levels was recorded between the Ru and Nu sheep.
Similarly, Ri and Ni sheep exhibited similar expression levels of AFM-specific genes involved in the innate response, i.e. lectin genes (LGALS15 and ITLN2) and the TFF3 gene (Table 4). A significant induction of LGALS15 mediated by H. contortus infection was observed between infected groups and their respective controls (p = 0.04 between the Ri and Ru groups and p = 0.02 between the Ni and Nu sheep, Table 4 and Figure 2).
Both suggestive and significant variations were observed between Ri and Ni sheep for some components of the acquired response (Table 4). Indeed, Ri sheep demonstrated a 4-fold increase in the IL-4 and IL-13 gene expression level in AFM in comparison to the Ni sheep (p = 0.04 and p = 0.02 for IL4 and IL13 respectively, Table 4 and Figure 2). The difference of IL13 expression between Ri and Ni seemed to be related to the lack of IL13 induction in Ni sheep as no significant difference was observed between Ni and Nu sheep (p = 0.72). Also, a slight suggestive down-regulation of TNFα was observed between Ri and Ni sheep (Table 4, Figure 3). The apparent stronger Th2 cytokine environment in the Ri sheep was also reinforced by a significant reduction by a 1/3 factor of the IFNγ expression (p = 0.01) in ALN between Ri and Ru sheep which could not be found between Ni and Nu sheep (Table 4, Figure 3). In addition, a non-significant down-regulation of TNFRSF4 was also observed between the same groups (Table 4, Figure 3).
Discussion
The reported study aimed at mining the functional properties of a QTL region associated with resistance to H. contortus. The first objective was to validate the identified QTL through the comparison of individuals selected on their particular QTL alleles. The second related goal was to investigate functional mechanisms associated with the QTL, thanks to a wider range of phenotypes, including gene expression analysis. Abundant literature has been produced on the role of particular loci like the MHC [24–26, 41, 42] or IFNγ [20, 22]. Other research teams mined the functional differences between divergent lines of sheep selected for low or high FEC [43–46], but to our knowledge, this is the first attempt to functionally investigate the properties of a positional candidate without prior evidence of a functional candidate affecting resistance to GIN in sheep.
Our results demonstrated that a 4-SNP haplotype of OAR12 could discriminate between resistant and susceptible lambs. The genotypic groups based on this 4-SNP genotype showed significant reduction in FEC (ranging between 600 and 11 000 eggs/g difference between R and N groups) haematocrit drop and worm fecundity (1.5 times less eggs in utero in H. contortus females in the R sheep). Given that the two genotypic groups had identical genomic background, our findings provide strong functional support for the QTL signal detected by the mapping approach.
As a wider RNAseq experiment is to be undertaken, only a limited set of targeted genes were measured for gene expression as a primary screening. These genes were either directly lying within the QTL region under study, or had been previously involved as major candidates in the resistance difference between MBB and RMN breeds.
The nearest annotated gene underlying the 4SNP region was the PAPP-A2 gene. It encodes a protease cleaving Insulin Growth Factor Binding Protein-4 (IGFBP4), therefore increasing the bioavailability of the Insulin Growth Factor (IGF) [47]. The IGF gene plays a role in the immune response [47–49] and was recently highlighted as a key player during wound healing associated with a nematode-induced Th2 response in a murine model [50]. In addition, PAPP-A2 expression is highly dependent of pro-inflammatory cytokines such as IFNγ and TNFα [47, 48] and it is induced during wound healing [47]. Interestingly, PAPP-A2 gene expression was significantly reduced in infected R and N sheep, between Nu and Ni (p = 0.02 and p = 0.05 in AFM and ALN respectively) although the reduction was not significant between Ri and Ru sheep (p = 0.09 and p = 0.07 in AFM and ALN respectively). To date, this is the first report of a relationship between PAPP-A2 and H. contortus infection. However no differences were observed between resistant and susceptible sheep after infection, and expression levels of PAPP-A2 did not follow the trends of other cytokines known to have regulatory effects, such as IL4 (up-regulation), IFNγ (down-regulation) or TNFα (up-regulation). Therefore the putative role of this gene still remains to be confirmed. Further, the observed gene expression levels might reflect some process that occurred earlier during the infection process preventing identification of differences between the different susceptibility groups. In particular, it would be interesting to examine IGF-1 and associated PAPP-A2 expression levels early in the infection process and as early as four dpi as reported for another murine model [50].
A previous microarray experiment identified a few genes differentially expressed between pure breed MBB and RMN sheep. Expression of these genes was measured to identify any relationship with the QTL genotype. From the expression data, no particular relationship could be drawn between this QTL and components of the innate response, such as lectins or TFF3. Such a relationship, if any, might occur at a different time point from the anti-H. contortus response. The only similar expression variation to the array study was the significant induction of LGALSL15 between naïve and infected sheep [12].
On the contrary, the observed cytokine gene expression ratios suggest an effect on worm fecundity through the mounting of a stronger Th-2 type environment as illustrated by the increase in IL4 and IL13 expression [5, 46]. Further, the IFNγ expression, known to be associated with susceptibility to GIN in murine models [5] was also down-regulated in Ri sheep in comparison to the Ru sheep. The additional slight down-regulation of TNFRSF4 (p = 0.07) between the same two groups constitutes another factor contributing to the mounting of a Th-2 environment against GIN while repressing the Th-1 response. Indeed the inhibition of the TNFRSF4 cytokine is known to induce a more efficient expulsion of helminths in mice models of nematode infection [51, 52]. Same findings of a stronger Th-2 environment were already reported while comparing pure breed Martinik and Romane sheep either at 4 and 30 dpi [53] or at 8 dpi [12]. IL5 is an additional Th-2 associated cytokine that was also found to be over-expressed in pure breed Martinik infected by H. contortus[12, 53] and in resistant Blackface sheep facing T. circumcincta infection [46]. In our experiment however, IL5 expression level was undetected after 40 qPCR cycles in 88% of the replicates, either using the primers published in [53] or after designing new primers (data not shown).
Proposing a detailed mode of action of the investigated QTL region would require more detailed investigation. However, extreme QTL alleles showed great contrasts in their effect on FEC, sheep blood loss and female worm fecundity. Since every lamb was inoculated with a similar infecting dose and no differences in worm burden could be found, the strong differences in female fertility reported here cannot be related to reduction in fecundity associated with density dependent effects [9, 54]. Hence, observed differences in worm fecundity seem to be directly mediated by the QTL under study. However, the QTL allelic group explained 26% of the variation for this trait at most, suggesting other factors are also involved as reported elsewhere [9, 54]. Further, significant differences in haematocrit were consistently observed between R and N groups at 14 and 27 dpi. Provided reticulocyte production was significantly higher in susceptible lambs after infection only, observed differences reflected a difference in true blood loss and not a higher regeneration ability of the resistant lambs. In addition, haematocrit at 27 dpi was negatively correlated to worm size (-0.43) and worm fecundity (-0.53). Both findings lead to the hypothesis that the investigated QTL region could limit worm feeding hence reducing their growth (shorter females) and fecundity (lower eggs recovered in utero). This could be mediated by the stronger Th-2 response that seems to be mounted by R sheep after infection. Indeed, local IgA response limits worm fecundity in T. circumcincta infection [9, 55] and in H. contortus infection [7]. More recent findings also support the relationship between T-cells number and worm female length [56]. Additional investigations on the characterization of subpopulations of T-cells in allelic carriers of each type could bring additional insights. As well, histological examination of abomasal mucosa of extreme animals could also confirm the stronger Th-2 response by measuring the eosinophilic infiltration and the number of mast cells. Additional detrimental factors like an increase of lectins in mucus could not be demonstrated in this study.
An additional meta-analysis of other parasite infection datasets gathered in the European 3SR project [57] is currently in process to confirm this region as a key player across multiple European breed, and eventually refine its location [58]. However, the back-cross design will not permit further refinement of the causative mutation explaining these variations. Therefore, pure breed association analyses are currently in progress to help refine the QTL position and a RNAseq experiment will be undertaken to widen the scope of functional candidates.
Declarations
Acknowledgements
Staff of the Langlade and La Sapinière experimental units are acknowledged for the care and management of sheep. The authors are greatly in-debt to S.C. Bishop and A. Legarra for their fruitful comments and advice while analysing the dataset. Authors would also like to thank L. Bodin, M. Lasalle (Cryopic), S. Coppin and V. Jacquiet for their support during the experimental infection. Critical reviewing and constructive comments of this manuscript by anonymous reviewers, A. Blanchard-Letort and R. Beech were particularly appreciated. This project was funded by the European 3SR project and G. Sallé was granted by the INRA Animal Health and Animal Genetics departments.
Authors' Affiliations
(1)
INRA, UMR1282, Infectiologie et Santé Publique, Nouzilly, France
(2)
Université François Rabelais de Tours, UMR1282 Infectiologie et Santé Publique, Tours, France
(3)
INRA, UR631, Station d'Amélioration Génétique des Animaux, Castanet-Tolosan, France
(4)
INRA, UMR444, Laboratoire de Génétique Cellulaire, Castanet-Tolosan, France
(5)
INRA, UE332, Domaine de la Sapinière, Osmoy, France
(6)
INRA, UE65, Domaine de Langlade, Pompertuzat, France
(7)
INRA, UMR1225, Interactions Hôtes – Agents Pathogènes (IHAP), Toulouse, France
(8)
Department of Clinical Sciences, INP-ENVT, Toulouse, France
(9)
Université de Toulouse, Institut National Polytechnique (INP), Ecole Nationale Vétérinaire de Toulouse (ENVT), UMR1225, IHAP, Toulouse, France
Copyright
© Sallé et al.; licensee BioMed Central Ltd. 2014
This article is published under license to BioMed Central Ltd. This is an Open Access article distributed under the terms of the Creative Commons Attribution License (http://creativecommons.org/licenses/by/2.0), which permits unrestricted use, distribution, and reproduction in any medium, provided the original work is properly credited. The Creative Commons Public Domain Dedication waiver (http://creativecommons.org/publicdomain/zero/1.0/) applies to the data made available in this article, unless otherwise stated.