Bovine cryptosporidiosis: impact, host-parasite interaction and control strategies
Veterinary Research
2017
48:42
Received: 20 February 2017
Accepted: 1 August 2017
Published: 11 August 2017
Abstract
Gastrointestinal disease caused by the apicomplexan parasite Cryptosporidium parvum is one of the most important diseases of young ruminant livestock, particularly neonatal calves. Infected animals may suffer from profuse watery diarrhoea, dehydration and in severe cases death can occur. At present, effective therapeutic and preventative measures are not available and a better understanding of the host–pathogen interactions is required. Cryptosporidium parvum is also an important zoonotic pathogen causing severe disease in people, with young children being particularly vulnerable. Our knowledge of the immune responses induced by Cryptosporidium parasites in clinically relevant hosts is very limited. This review discusses the impact of bovine cryptosporidiosis and describes how a thorough understanding of the host–pathogen interactions may help to identify novel prevention and control strategies.
1 Introduction
Cryptosporidium parvum was first described in 1907 by Edward Ernst Tyzzer in the small intestine of mice [1]. Since then, over 30 species of Cryptosporidium have been described that infect a wide range of host species [2]. Several species infect cattle and have a significant impact upon animal health and production, especially in young calves. Unfortunately, relatively few tools are available to combat bovine cryptosporidiosis (no vaccine and one drug of limited utility), and our knowledge of host–pathogen interactions in the bovine host is also very limited. Addressing these important gaps in our understanding of bovine cryptosporidiosis will aid the development of interventions going forward. This review summarises our current understanding of bovine cryptosporidiosis, with a particular focus on what is currently known about the bovine immune response to this pathogen, and discusses avenues for new research to further our understanding of host-parasite interactions in bovine cryptosporidiosis.
Cryptosporidiosis was first reported in cattle in the early 1970s [
3
], but the observed clinical disease could not be solely attributed to
Cryptosporidium
as there was evidence of co-infection with other viral and bacterial pathogens. In 1983, neonatal diarrhoea in experimentally infected calves was reported with
Cryptosporidium
species as the single infective agent [
4
]. Cryptosporidiosis is now recognised as endemic in cattle worldwide and is one of the most important causes of neonatal enteritis in calves globally [
5
–
7
]. Veterinary surveillance reports show cryptosporidiosis has been the main diagnosed cause of enteritis in calves in the UK between 2007 and 2011 (Figure
1
) [
8
].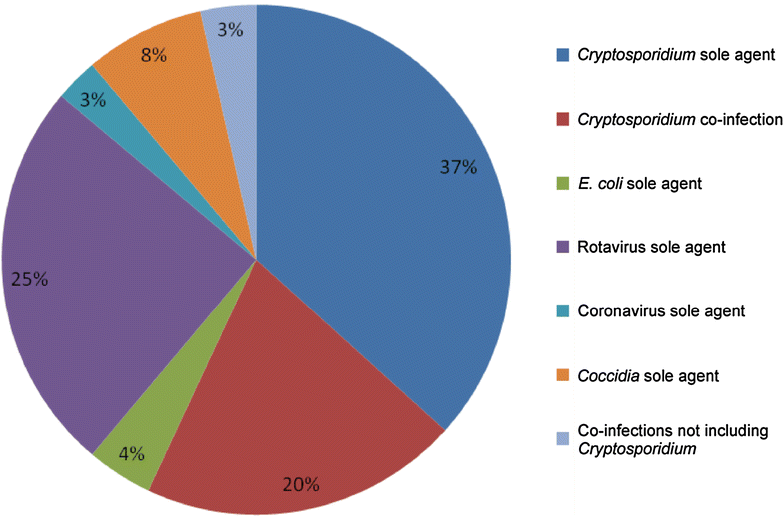 1.1 Parasite life cycle
Cryptosporidium
oocysts are transmitted between hosts via the faecal-oral route, either directly via contact with faeces from infected hosts, or indirectly through environmental contamination or ingestion of contaminated food or water. Following ingestion of infective
Cryptosporidium
oocysts by the host, the conditions in the gastrointestinal tract (low pH and body temperature) trigger oocyst excystation and four sporozoites are released (Figure
2
A).
Cryptosporidium parvum
sporozoites adhere to epithelial cells (Figure
2
B) of the ileum, specifically at the ileocaecal junction in the case of
C. parvum
. Following attachment, the sporozoites become incorporated within a parasitophorous vacuole formed by the host cell membrane yet remain extracytoplasmic. A feeder organelle, unique to
Cryptosporidium
and present in all intracellular stages, acts as the interface between the parasite and the host cell. The feeder organelle enables the parasite to obtain all necessary nutrients from the host while still being protected from the host immune response and hostile gut conditions (Figure
3
).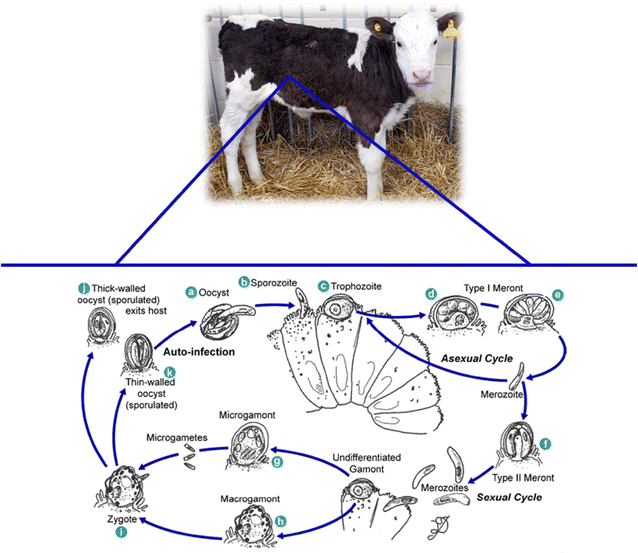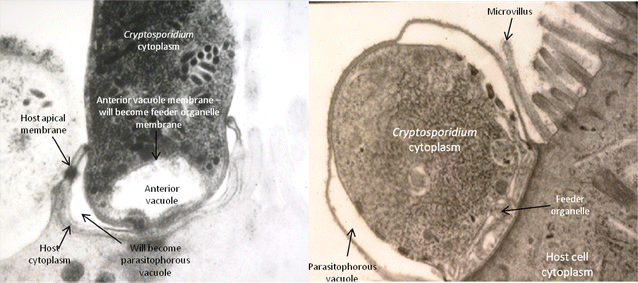 After the development of the feeder organelle the sporozoite itself becomes more spherical in shape and forms a trophozoite (Figure 2C). The parasite begins asexual reproduction (Figure 2D) and develops into a type I meront (Figure 2E) which releases merozoites. The merozoites that are formed within the type I meront can immediately re-infect the host, by invading neighbouring epithelial cells and beginning asexual reproduction again, or develop into a type II meront.
Type II meronts release four merozoites that initiate the sexual reproductive cycle. The released merozoites invade host cells and differentiate into either macrogamonts (Figure 2H) or microgamonts (Figure 2G). Microgamonts develop multiple nuclei and release free microgametes that penetrate and fertilise the macrogamete, producing a zygote (Figure 2I). Meiosis occurs and the zygote differentiates into four sporozoites as the oocyst develops and is released from the lumen.
The sporozoites may be released directly into the lumen either from thin-walled oocysts (Figure 2K) that re-infect the host, or are contained in thick-walled oocysts (Figure 2J) which are shed in faeces and are immediately infective for other hosts [10]. The ability to produce thin-walled oocysts which enable auto-infection of the host is one of the reasons why the Cryptosporidium parasite is so successful. This auto-infection means that the parasite can produce many new oocysts in a relatively short time.
Thick-walled sporulated oocysts are excreted by infected hosts and are very resistant to many environmental conditions [11, 12]. Oocysts survive for several months in cool, moist climates, but can be inactivated by desiccation [13]. Environmental contamination and oocyst persistence is a significant factor in the epidemiology of bovine cryptosporidiosis.
2 Bovine cryptosporidiosis
Four species of Cryptosporidium are commonly found in cattle: C. parvum, C. bovis, C. ryanae and C. andersoni, but only C. parvum is associated with clinical disease in neonatal calves [14, 15], with older animals (> 6 weeks) exhibiting asymptomatic shedding of oocysts.
There tends to be an age-related distribution [16] of these species with C. parvum, C. bovis and C. ryanae infecting the small intestine of weaned calves. Cryptosporidium bovis and C. ryanae have not yet been associated with clinical disease in any age group of cattle although one study from Sweden reported the presence of C. bovis as a single pathogen in diarrhoeal samples (n = 6) from calves aged > 21 days, this suggests that C. bovis may have pathogenic potential [17]. Cryptosporidium andersoni is more frequently found in adult cattle then younger animals and infects the abomasum [18]. The clinical signs associated with C. andersoni include a reduction in weight-gain and milk yield in adult cows [19].
One suggestion for the age-related distribution of Cryptosporidium species seen in several host species is that changes in the gut microflora as the animal matures or due to dietary changes may affect the ability of the parasite to infect the gut. While there are no experimental trials demonstrating this in cattle, Kvac et al. [21] investigated the age-related susceptibility of pigs to C. scrofarum; previous work had indicated that while C. suis infected all age groups of pigs it appeared that C. scrofarum only infected older animals [20]. In their study, groups of 4, 5, 6, 7 and 8 weeks-old naïve piglets were infected with C. scrofarum oocysts and faecal samples were collected and examined for the presence of oocysts. The study found that oocysts were only detected in the faeces of animals > 5 weeks of age. Additionally, no parasite DNA was detected in the gut samples of the 4 week old pigs at post-mortem while C. scrofarum DNA was detected in the duodenum, ileum and jejunum of the older pigs. The authors suggested that changes to the gut at weaning, while the piglets were adapting to a new diet may make the gut easier for the parasite to invade [21].
Neonatal animals infected with C. parvum may suffer from profuse watery diarrhoea, inappetence, lethargy, dehydration and in some cases death can occur. The onset of diarrhoea usually occurs around 3–4 days after ingestion of infective oocysts and lasts for approximately 1–2 weeks. Oocyst shedding occurs between 4 and 12 days post-infection though this can vary depending on the initial challenge dose [22] and oocyst shedding is not always associated with diarrhoea. Infected calves can shed large numbers (over 1 × 1010) of oocysts each day [23], which are immediately infective to other susceptible hosts [23]. Very few C. parvum oocysts are required to cause infection in susceptible hosts, although evidence suggests this varies according to parasite isolate. As few as nine oocysts of the TAMU isolate caused disease when tested on human volunteers, whereas in the same study the infective dose was 87 and 1042 oocysts for the IOWA and UCP isolates, respectively [24]. A similar study in neonatal calves (< 24 h old), experimentally infected with C. parvum, demonstrated that as few as 17 oocysts were sufficient to cause diarrhoea and oocyst shedding [25]. Since naturally infected calves can shed in excess of 3 × 1010 oocysts over a 6 day period [23], the ability of C. parvum to rapidly multiply in the gut and establish infection after exposure to a small number of oocysts makes cryptosporidiosis a difficult disease to control on farms.
3 Current control measures for bovine cryptosporidiosis
Cryptosporidiosis is a difficult disease to control (due to environmentally stable oocysts, low infective dose and high levels of excreted sporulated oocysts) and infection may be transmitted to a group of susceptible hosts very quickly. The oocysts are resistant to many disinfectants [49, 68], there are no vaccines available to prevent the disease and available treatment options are limited and often rely on rehydration therapy [69].
3.1 Farm management practices
As the oocysts of C. parvum are very difficult to eliminate from the environment an alternative control measure is to try and reduce the environmental contamination in the first place. Frequent removal of faeces and contaminated bedding from calving areas and calf houses, combined with steam-cleaning and disinfection with a suitable disinfectant such as Hydrogen Peroxide based disinfectants can help to reduce environmental build up. Thorough cleaning with very hot water followed by drying [70] can also be effective as the oocysts are susceptible to extremes of temperature (down to −20 °C and up to 60 °C) and desiccation [13].
3.2 Therapeutics
At present, few products are licensed in the UK for the treatment or prevention of cryptosporidiosis in livestock or humans. Those which are available are not very effective, and in most cases will only reduce the duration of shedding and have little or no effect in immunocompromised patients.
3.2.1 Livestock
The only licensed treatment for cryptosporidiosis in calves is halofuginone lactate, the mechanism of action of this drug is unknown but it is thought to affect the merozoite and sporozoite stage of the parasite [71]. This drug is approved for use in both prevention and treatment of cryptosporidiosis in calves but cannot be used in animals have shown signs of diarrhoea for > 24 h. As a prophylactic measure the drug should be given within 48 h of birth and as a therapeutic agent, within 24 h of the onset of symptoms. Halofuginone lactate must be given for 7 consecutive days, which can be difficult to manage, particularly for beef calves that are kept with their dams. Treatment with halofuginone lactate does not completely prevent or cure disease but can reduce oocyst shedding and the duration of diarrhoea [72–74]. There are no licensed treatments for cryptosporidiosis in sheep, goats or pigs.
Several other chemotherapeutic agents have been tested for the treatment of cryptosporidiosis in livestock but none have resulted in a significant reduction in clinical symptoms. For example, some antibiotics, such as paromomycin have shown efficacy against Cryptosporidium oocyst shedding, clinical disease and mortality in calves, lambs and goat kids, but these compounds are not registered for use in calves [75, 76]. Fayer and Ellis [75] showed that experimentally infected calves treated with 100 mg/kg paromomycin twice daily for 11 days shed significantly less oocysts than control (untreated) calves. Treated calves also showed a significant reduction in duration and severity of diarrhoea. A field trial to test the efficacy of paromomycin in naturally infected dairy calves showed similar results; ten dairy calves on a farm known to have a problem with cryptosporidiosis were treated with 100 mg/kg paromomycin once per day for 10 days while another group were left untreated. Treated calves showed no diarrhoea until after treatment was stopped while untreated calves began to develop diarrhoea after 7 days. The authors suggested that the treated calves only showed diarrhoea after treatment was stopped due to the continuous parasite challenge in a field environment. Oocysts were detected in faecal samples from all calves but the shedding of oocysts in treated calves was significantly later than in untreated calves [77].
A few coccidiostats, such as decoquinate have been tested against Cryptosporidium in neonatal calves with limited or no reduction in oocyst shedding [78]. Nitazoxanide which is the only licensed treatment for human cryptosporidiosis has also been tested on experimentally infected calves and was shown to reduce duration of oocyst shedding and severity of diarrhoea in treated calves [79] but at present it is not licensed for use in cattle.
More recent studies which have evaluated novel bumped kinase inhibitors (BKIs) as a potential treatment for bovine cryptosporidiosis showed that experimentally infected calves treated with BKIs had a reduction in oocyst shedding when compared with untreated controls. One study did not show any differences in diarrhoea between the groups but the authors noted that the clinical disease seen in the control animals was very mild [80]. In another study it was demonstrated that all three of the BKIs that were tested alleviated clinical symptoms of cryptosporidiosis (when calves were dosed twice daily for 5 days) but did not eliminate them completely [81].
3.2.2 Vaccines
Currently, there are no vaccines available to prevent cryptosporidiosis in either farm livestock or humans. However, several attempts to develop such a vaccine have been made, some of which were partially successful under experimental conditions. Calves that were immunised with killed (γ-irradiated or lyophilised) C. parvum oocysts showed reduced oocyst shedding and diarrhoea when compared to non-immunised calves [82, 83]. However, this vaccine was not effective when tested under field conditions [84].
Infection with Cryptosporidium often occurs within the first week of life, so attempting to immunise the neonatal calves themselves is unlikely to be effective as this will not provide sufficient time to induce a significant immune response prior to infection [85]. To resolve this issue, attempts have been made to immunise pregnant cows to produce antibodies against Cryptosporidium which can be passed via colostrum to their calves. Calves receiving colostrum from cows vaccinated in this manner with recombinant C. parvum were protected against diarrhoea and also had reduced oocyst shedding, when compared to those calves that received colostrum from non-vaccinated cows [86]. However, a commercial vaccine has not so far become available as the efficacy of recombinant C. parvum has yet to be demonstrated in the field.
Despite several compounds being tested for efficacy against cryptosporidiosis in calves, to date, no new drugs have reached the market since 1999 when halofuginone lactate was approved for use. It is necessary to carry out further research to better understand this parasite so that new treatment options can be developed.
4 Immunology of cryptosporidiosis
The development of future control methods against
Cryptosporidium
is likely to focus on vaccines and other immunotherapies. Therefore, there is an increased need to define the immunological parameters associated with disease progression. To date, most of the literature describing the immune response induced by
Cryptosporidium
parasites has been generated from studies in mice. Overall, the immune response to
Cryptosporidium
infection in humans and cattle is poorly understood. Studies in these clinically relevant hosts are urgently required in order to more effectively identify strategies to improve control of cryptosporidiosis. Here, we summarise our current understanding of the immune response to
C. parvum
infection (summarised in Figure
4
).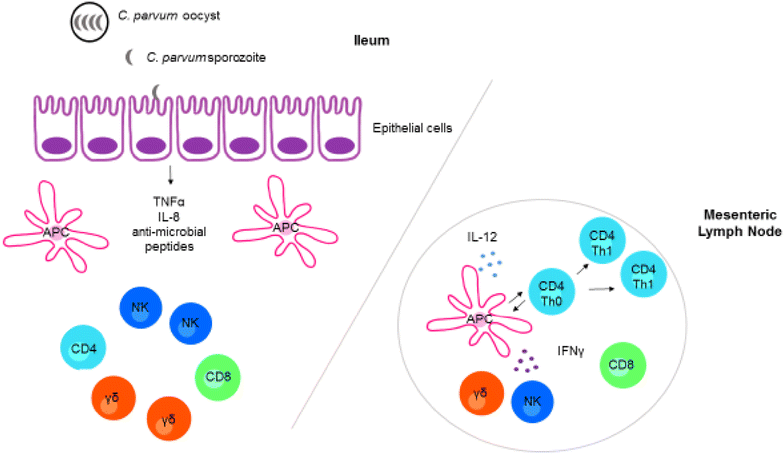 4.1 Innate immune response
4.2 Adaptive immune response
5 Concluding remarks
Despite being discovered over 100 years ago Cryptosporidium remains one of the most difficult pathogens to control on farms and in the environment. To date, progress in the development of effective treatments for humans or animals has been slow. This may be due, in part, to the lack of understanding of the cellular and molecular interactions that occur in the gut mucosa during the early stage interactions between host and parasite. The majority of studies that have been carried out have focussed on mice, an asymptomatic model. Therefore, a more in-depth understanding of the pathogenesis of Cryptosporidium infection in clinically relevant hosts is urgently required. Data derived from these studies is necessary to help identify the factors that influence disease resistance and recovery, and to aid the development of effective control strategies to help control this important disease.
Abbreviations
%:

percent
~:

approximately
<:

less than
=:

equal to
>:

more than
°C:

degrees centigrade
AIDS:

acquired immune deficiency syndrome
APC:

antigen presenting cell
BMDCs:

bone marrow-derived dendritic cells
C. andersoni :

Cryptosporidium andersoni
C. bovis :

Cryptosporidium bovis
C. hominis :

Cryptosporidium hominis
C. meleagridis :

Cryptosporidium meleagridis
C. parvum :

Cryptosporidium parvum
C. ryanae :

Cryptosporidium ryanae
CD:

cluster of differentiation
CDR:

complementarity-determining region
cm:

centimetre
DCs:

dendritic cells
DNA:

deoxyriboneucleic acid
GALT:

gut associated lymphoid tissue
GM-CSF:

granulocyte-macrophage colony-stimulating factor
HCT-8:

human colon carcinoma cell line
HPA:

health protection agency
HPS:

health protection Scotland
HT-29:

human colon adenocarcinoma cell line
ID50:

infectious dose to 50% of exposed individuals
IFN:

interferon
IL:

interleukin
kg:

kilogram
MHC:

major histocompatibility complex
MICA:

MHC class I chain-related protein A
MICB:

MHC class I chain-related protein B
mRNA:

messenger RNA
NFκB:

nuclear factor kappa-light-chain-enhancer of activated B cells
NK:

natural killer cells
NKG2D:

natural killer group 2 member D
PBMCs:

peripheral blood mononuclear cells
PCR:

polymerase chain reaction
pH:

negative log of the activity of the hydrogen ion in an aqueous solution
PRRs:

pathogen recognition receptors
Rag2:

recombination activating gene 2
RFLP:

restriction fragment length polymorphism
RORγt:

retinoid-related orphan receptor gamma t
spp.:

species
STAT3:

signal transducer and activator of transcription 3
TCR:

T cell receptor
TGF:

transforming growth factor
Th:

T helper
TLR:

toll-like receptors
TNF:

tumor necrosis factor
UK:

United Kingdom
USA:

United States of America
VIDA:

veterinary investigation diagnosis analysis
α:

alpha
β:

beta
γ:

gamma
δ:

delta
Declarations
Competing interests
The authors declare that they have no competing interests.
Authors' contributions
CH and ST prepared the original draft of the manuscript. All authors provided additional input for the manuscript. All authors read and approved the final manuscript.
Acknowledgements
The images in Figure 3 were used with the kind permission of Saul Tzipori.
Availability of data and materials
Not applicable.
Consent for publication
Not applicable.
Ethics approval and consent to participate
Not applicable.
Funding
This work was supported by the Animal Health Research Club ARC (Grant: BB/MO12751/1), and the Scottish Government (RESAS). LM is supported by a Royal Society University Research Fellowship (UF140610). CH, LM, JH and NAM were also supported by Institute Strategic Programme Grant funding from the BBSRC (BB/J004227/1).
Publisher's Note
Springer Nature remains neutral with regard to jurisdictional claims in published maps and institutional affiliations.
Open AccessThis article is distributed under the terms of the Creative Commons Attribution 4.0 International License (http://creativecommons.org/licenses/by/4.0/), which permits unrestricted use, distribution, and reproduction in any medium, provided you give appropriate credit to the original author(s) and the source, provide a link to the Creative Commons license, and indicate if changes were made. The Creative Commons Public Domain Dedication waiver (http://creativecommons.org/publicdomain/zero/1.0/) applies to the data made available in this article, unless otherwise stated.
Authors' Affiliations
(1)
Moredun Research Institute, Edinburgh, Scotland, UK
(2)
The Roslin Institute & Royal (Dick) School of Veterinary Sciences, University of Edinburgh, Easter Bush, Midlothian, UK