Epidemiology and control of bovine ephemeral fever
Veterinary Research
2015
46:124
Received: 6 July 2015
Accepted: 30 September 2015
Published: 28 October 2015
Abstract
Bovine ephemeral fever (or 3-day sickness) is an acute febrile illness of cattle and water buffaloes. Caused by an arthropod-borne rhabdovirus, bovine ephemeral fever virus (BEFV), the disease occurs seasonally over a vast expanse of the globe encompassing much of Africa, the Middle East, Asia and Australia. Although mortality rates are typically low, infection prevalence and morbidity rates during outbreaks are often very high, causing serious economic impacts through loss of milk production, poor cattle condition at sale and loss of traction power at harvest. There are also significant impacts on trade to regions in which the disease does not occur, including the Americas and most of Europe. In recent years, unusually severe outbreaks of bovine ephemeral fever have been reported from several regions in Asia and the Middle East, with mortality rates through disease or culling in excess of 10–20%. There are also concerns that, like other vector-borne diseases of livestock, the geographic distribution of bovine ephemeral fever could expand into regions that have historically been free of the disease. Here, we review current knowledge of the virus, including its molecular and antigenic structure, and the epidemiology of the disease across its entire geographic range. We also discuss the effectiveness of vaccination and other strategies to prevent or control infection.
Keywords
Vesicular Stomatitis VirusWater BuffaloRift Valley FeverSerological SurveyBovine Ephemeral Fever Virus
1 Introduction
Bovine ephemeral fever virus (BEFV) an arthropod-borne rhabdovirus which is classified as the type species of the genus
Ephemerovirus
. It causes an acute febrile illness of cattle and water buffalo known as bovine ephemeral fever (BEF) or various other local names such as 3-day sickness, bovine enzootic fever, bovine influenza or stiffseitke. It occurs over a vast expanse of the globe from the southern tip of Africa to the Nile River Delta, across the Middle East through South and South-East Asia, into northern and eastern Australia, and throughout most of China, extending into Taiwan, the Korean Peninsula and southern Japan (Figure
1
). BEFV does not occur in the islands of the Pacific, Europe (other than in the western regions of Turkey) or in the Americas where, for quarantine purposes, it is considered as an important exotic pathogen. Infection may be clinically unapparent or result in mild to severe clinical signs including a bi-phasic fever, salivation, ocular and nasal discharge, recumbency, muscle stiffness, lameness and anorexia. Sternal and lateral recumbency in cattle with clinical BEF are shown in Additional file
1
. Usually, the disease is characterised by rapid onset and rapid recovery, lasting only 1–3 days, but there are reports of prolonged paralysis and ataxia in some animals following the acute phase of infection. The most severe cases can result in mortality which may be due to exposure, starvation or pneumonia, but little is currently known about the direct cause of death. Morbidity rates can be very high (approaching 100%) and mortality rates are typically low (<1%). However, in recent years there have been reports from several countries of alarmingly high case-fatality rates, sometimes exceeding 20% [
1
–
3
]. The economic impacts of BEF can be considerable and are due primarily to cessation of lactation in dairy cattle, loss of condition in beef cattle and the immobilisation of water buffalo used for draught power [
4
–
7
]. A recent study has estimated an average net loss of 175.9 kg milk per cow affected by BEF [
7
]. BEF also impacts on trade in live cattle from infected zones and there is some evidence that the risks of inter-continental spread of BEFV through animal transport or vector translocation may be increasing [
8
].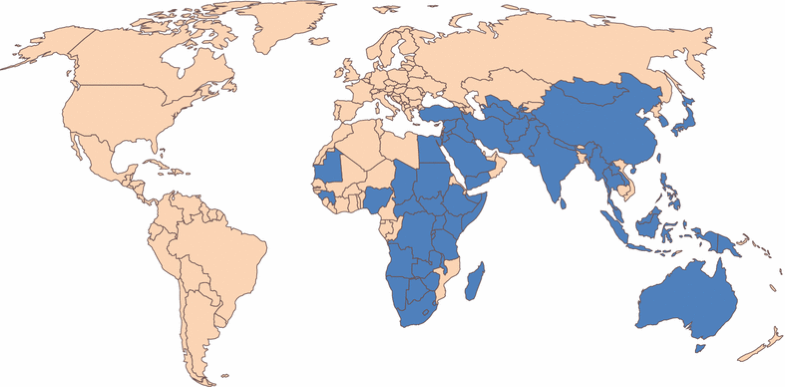 2 Molecular and antigenic characteristics of BEFV
2.1 Molecular structure
BEFV displays typical rhabdovirus bullet-shaped morphology (Figure
2
), although virions (~185 nm × ~75 nm) appear to be more tapered at one end than the rounded forms that are observed for vesicular stomatitis virus (VSV) or rabies virus (RABV) [
9
]. Helical nucleocapsids comprise the negative-sense, single-stranded RNA genome tightly associated with the 52 kDa nucleoprotein (N) which, together with the 43 kDa phosphoprotein (P) and the large multi-functional enzyme (L) form a ribonucleoprotein complex [
10
]. Nucleocapsids are encased in the 29 kDa matrix protein (M) and a lipid envelope through which an 81 kDa class 1 transmembrane glycoprotein (G) protrudes to form surface projections [
9
]. Defective-interfering particles with truncated cone-shaped morphology are commonly present in purified virus preparations (Figure
2
).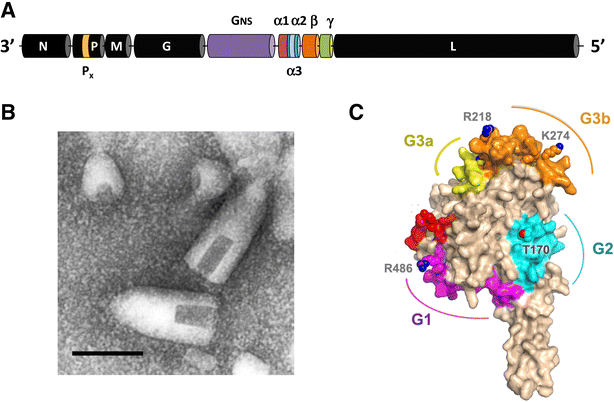 The 14.9 kb BEFV genome is much larger and more complex than those of VSV or RABV, possibly explaining the subtle difference in virion morphology (Figure 2). In addition to the five canonical rhabdovirus structural protein genes, the BEFV genome features a ~3.4 kb region between the G and L genes containing multiple additional open reading frames (ORFs) [11]. Thus, the genome contains a total of 10 long open reading frames (ORFs) arranged in the order 3′-N-P-M-G-[GNS-α1-α2-β-γ]-L-5′ (in negative sense). The GNS gene encodes a 90 kDa class 1 transmembrane glycoprotein that is structurally related to the G protein and appears to have been generated by gene duplication [12]. The GNS protein is expressed in infected cells but is not incorporated into virions and, unlike the G protein, does not appear to be fusogenic at low pH [13, 14]. Its function is presently unknown. The α1 gene encodes a 10.5 kDa transmembrane protein that is expressed in infected cells and has the structural and functional properties of a viroporin [15]. BEFV α1 protein localises to the Golgi complex and has been shown to bind importin β1 and importin 7, suggesting that it may also have a role in modulating nuclear trafficking pathways [15]. The functions of proteins encoded in the α2, β and γ ORFs are presently unknown. However, it has been observed that expression of the β and γ ORFs is selectively suppressed by mutation during adaptation to cell culture, suggesting that their role is associated with infection in vivo (P.J. Walker, unpublished data). Short alternative ORFs also occur in different frames within the P and α2 ORFs but it is not known if they are expressed as functional proteins.
2.2 Antigenic structure
The BEFV G protein is the target of virus-neutralising antibodies [16, 17]. The G protein shares structural homology with the G proteins of other animal rhabdoviruses [18, 19], including the VSV G protein for which the crystal structure has been resolved. Three major neutralisation sites (G1–G3) have been defined by using BEFV G protein-specific monoclonal antibodies (MAbs) in competition ELISAs [17]. The sites have been confirmed by selection of neutralisation escape mutants [20] and physically mapped to the G protein structure by sequence analysis of the mutants [18, 21]. A fourth site (G4) has also been defined by a MAb-selected neutralisation escape mutant but it has not yet been mapped physically [20]. G1 is a linear neutralisation site (Y487-K503) that is located at the end of the trimerisation domain (DII) just before the C-terminal stalk of the G protein [18, 21]. It comprises two minimal B cell epitopes that map to each end of the site [21]. G2 is a conformational site which is located at the base of the fusion domain (DIV) adjacent to a disulphide bridge (C172–C182) that forms a loop containing a predicted N-glycosylation site. G3 is the major conformational site in the BEFV G protein, occupying most of the base of the pleckstrin homology (PH) domain (DIII). It comprises amino acids from three linear regions of the G protein that are aligned by the fold. It includes two sub-sites (G3a and G3b) defined by either partial or complete inhibition of MAb binding in competition ELISAs [18, 21]. Each of these antigenic sites is predicted to be exposed at the surface of the G protein (Figure 2). Both G2 and G3 are predicted to be available to neutralising antibodies in the pre-fusion form of the G protein [18]. Site G2 is on the lateral face of the trimer. Site G3 is at the distal end of the spike and corresponds to the major conformational sites of VSV and RABV which are thought to be involved in receptor-binding. Site G1 is predicted to face the viral membrane in both the pre-fusion and post-fusion forms of the trimer and may be accessible to antibodies only during a transitional monomeric phase [18].
The BEFV N protein is also immunogenic in cattle and in mice. It does not induce virus-neutralising antibodies or a protective response [22, 23] but it does induce a T cell proliferative response in cattle [22]. All 12 available BEFV N protein MAbs are non-neutralising and have been mapped to non-conformational sites in the C-terminal half of the protein. Two of these MAbs have been shown to cross-react in immunoblots with the rabies virus N protein [23] and this may explain weak cross-reactions detected in indirect immunofluorescence tests between certain lyssaviruses and ephemeroviruses [24]. Monoclonal antibodies have also been generated to the BEFV M protein. They are all non-neutralising and appear to bind to non-conformational sites but have not been physically mapped to the protein [17].
2.3 Antigenic variation
BEFV is considered to exist as a single serotype worldwide. Various neutralisation tests conducted using isolates from Australia, China, Japan, Kenya, Nigeria and South Africa have demonstrated strong antigenic cross-reactions [25–29]. There is also anecdotal evidence that vaccines developed in several countries using BEFV strains isolated more than 40 years ago remain effective against currently circulating strains and that vaccines developed against a strain of the virus from one region are effective against viruses currently circulating in other regions of the world. Nevertheless, homologous neutralisation titres are typically higher than heterologous titres amongst viruses isolated at different times or from different geographic regions [1, 27, 28].
Variations have also been detected in the major neutralisation sites of the G protein. A study of 66 Australian BEFV isolates collected between 1956 and 1992 has indicated that, whilst all isolates were neutralised by MAbs representing antigenic sites G1, G2 and G4, variations have occurred in some epitopes within the major conformational site G3, allowing the identification of four antigenic sub-types [18, 20]. Isolates assigned to subtype I were neutralised by MAbs (generated against the 1968 isolate BB7721) representing all four antigenic sites; subtype II isolates lack an epitope in site G3a; subtype III isolates lack an epitope in site G3b; and subtype IV isolates lack both the G2a and G3b epitopes. Interestingly, whilst variations in the site G3b epitope showed no temporal or geographic association, the G3a epitope was found to be present in all viruses isolated prior to 1973–74 and absent from all viruses isolated since that time [18]. Sequence analysis of the isolates indicated that variations in site G3a were associated with a conservative substitution at amino acid 218 (R218K) and that variations in the site G3b epitope were primarily associated with various substitutions or deletions at amino acid 215 (Figure 2). Variations were also observed in other amino acids in regions that had been mapped previously to sites G1, G2 or G3 but they did not affect the neutralisation phenotypes of epitopes targeted by the MAbs used in the study [18]. Analyses of the G protein sequences of BEFV isolates from Japan and Taiwan, mainland China and the Middle East have also revealed variations in amino acids in regions that correspond to antigenic sites G1, G2 and G3 [3, 30–32]. However, the MAb-neutralisation phenotypes of these isolates have not been determined.
3 Ecology of BEF infection
3.1 Vertebrate host range
Clinical BEF has been reported only in cattle and water buffalo (Bubalus bubalis). Although cattle are considered to be more susceptible to disease [33, 34], mild clinical signs have been reproduced experimentally in water buffalo [35] and severe disease has been reported in the field [36]. There is also evidence of infection and clinical BEF in yak (Bos grunniens) in China and India [37, 38]. Serological studies have detected BEFV antibodies in a wide range of wild ungulates. In surveys conducted in Kenya, Tanzania, Zimbabwe and South Africa, BEFV-neutralising antibodies have been detected in African buffalo (Syncerus caffer), waterbuck (Kobus ellipsiprymnus) wildebeest (Connochaetes taurinus, Connochaetes gnou), hartebeest (Alcelaphus buselaphus), topi (Damaliscus korrigum), tsessebe (Damaliscus lunatus), blesbok (Damaliscus dorcas phillipsi), springbok (Antidorcus marsupialis), impala (Aepycerus melampus), sable antelope (Hippotragus niger), eland (Taurotargus oryx), kudu (Tragelaphus strepsiceros), bushbuck (Tragelaphus scriptus) and giraffe (Giraffa camelopardalis) [39–42]. In other African, countries exposure to BEFV infection has been reported in lechwe (Kobus leche), elephant (Loxodonta africana), warthog (Phacochoerus aethiopicus), oryx (Oryx beisa), hippopotamus (Hippopotamus amphibius) and gazelle (Gazella granti) [41]. In some cases, the prevalence of BEFV antibodies in African wildlife was quite high (over 60% of animals tested), suggesting they may serve as natural reservoirs of infection in which the virus cycles during inter-epizootic periods [39, 42]. BEFV-neutralising antibodies have also been detected in Persian fallow deer (Dama d. mesopotamica) and gazelle (Gazella g. gazella) in Israel [43], pigs (Sus scrofa) in Korea [44], and red deer (Cervus elaphus), Rusa deer (C. timorensis) and Chital deer (Axis axis) in Australia [5, 45, 46]. There is also evidence of infection in camels (Camelus dromedaries) in Egypt and Somalia [47] and an ephemeral fever-like illness known locally as "Lahaw-Gaal" has been reported to affect camels in Somalia and north-eastern Kenya [48]. Generally, the low prevalence of BEFV antibody in these species and their quite small populations relative to cattle and water buffalo suggests that they may have little importance in the overall ecology of infection outside of Africa.
Sheep have also been infected experimentally with BEFV but did not develop clinical signs other than pyrexia and attempts to isolate the virus failed [49, 50]. However, some sheep developed BEFV-neutralising antibodies and mild haematological changes, and clinical disease was observed in susceptible steers inoculated with leukocytes collected from the infected sheep 3–4 days after infection. Although BEFV-neutralising antibodies have been reported in sheep and goats in Taiwan [51], several other serological studies conducted in BEFV-enzootic regions have failed to find evidence of infection in sheep [43, 45, 52]. Factors such as low levels of viraemia and the feeding preference of vectors may limit the role of sheep in the natural BEFV transmission cycle.
3.2 Vector-borne transmission
A large body of evidence suggests that BEFV is transmitted by haematophagous insects. Its geographical distribution is mostly in tropical, subtropical and warm temperate regions and the pattern of disease is seasonal with outbreaks occurring from late spring to autumn [6]. It has also been shown that experimental transmission of infection requires intravenous injection of infected blood and there is no transmission by direct contact with infected animals or fomites [53, 54]. Attempts to transmit BEFV mechanically from various insects were also unsuccessful [53]. BEFV has been isolated from several potential haematophagous vector species including biting midges and mosquitoes. The virus has been isolated from Culicoides imicola and C. coarctus in Zimbabwe [55], from a mixed pool of biting midges in Kenya, comprising C. kingi, C. nivosis, C. bedfordi and C. pallidipennis [29], and from C. puncticollis in Turkmenistan [56]. In Australia, there have been isolations from C. brevitarsis [57], Anopheles bancroftii mosquitoes and a mixed pool of mosquitoes that included Culex, Uranotaenia and Aedes spp. [58, 59]. These isolations have been from insects that were not recently blood-engorged.
Attempts to demonstrate vector competence for BEFV in mosquitoes and biting midges have met with limited success. Artificial membrane-feeding experiments showed no evidence of BEFV replication in Aedes vigilax but replication to some extent was detected in Culex annulirostris 10 days after feeding [60]. In other experiments, BEFV was recovered from three of 23 Cx. annulirostris 12 days after feeding on a blood-virus mixture [59]. It has also been reported that up to 70% of Cx. annulirostris inoculated intrathoracically with BEFV were found by in vitro capillary tube feeding to be excreting virus 7 days after incubation at 26 °C [61]. In contrast, BEFV was recovered from only one of 526 C. brevitarsis 10 days after feeding on a mixture of sucrose and infected mouse brain. In a large study conducted in South Africa, biting midges (primarily C. imicola and C. bolitinos) collected in the field were fed blood mixed with Australian and African strains of BEFV. Although BEFV was detected in 18.9% of the midges assayed immediately after feeding, none of the >4000 midges surviving at 10 days post-feeding were found to be infected [62].
Various other factors also appear to implicate mosquitoes as the principal vectors of BEFV. The observation that direct intravenous injection is required to initiate experimental BEFV infection in cattle suggests that capillary feeders (mosquitoes) rather than pool feeders (midges) would be required for efficient transmission [61]. This is supported by evidence that experimental BEFV infection is confined primarily to the blood and bone marrow with no evidence of infection in the peripheral lymph system [63]. It has also been observed that the geographic distribution of BEFV in Australia extends beyond that of the most widely distributed midge species (C. brevitarsis) but is similar to the distribution of Cx. annulirostris mosquitoes [64]. The epidemiological pattern in Australia, in which outbreaks commonly follow heavy rainfall, also suggests an association with the emergence of large populations of mosquitoes breeding in shallow ground pools [63]. However, the distribution of BEFV in Kenya has been reported to extend beyond the zones in which mosquitoes are abundant, and its appearance in locations from which other mosquito-borne diseases (such as Rift Valley fever) have not been isolated, may suggest transmission by midges [65]. Further work is required to better define the vectors of BEFV, including vector competence studies to demonstrate transmission following the extrinsic incubation period by vectors fed on infected cattle. It is possible that several species of midges and mosquitoes could serve as vectors when seasonally abundant.
4 History, distribution and epizootiology of BEF
5 Other ephemeroviruses
Several other viruses that have been isolated from cattle or biting insects are antigenically related to BEFV, some of which have been classified as members of the genus Ephemerovirus. From a clinical perspective, the most significant of these is kotonkan virus (KOTV) which was isolated from biting midges (Culicoides spp.) in Nigeria in 1967 [122]. Seroconversion to KOTV neutralising antibody has been associated with an ephemeral fever-like illness in cattle in Nigeria [122] and mild signs of the disease have been observed following experiment infection of calves with a mouse brain-adapted strain of the virus [123]. Based primarily on antigenic cross-reactions with Mokola virus in complement-fixation and indirect immunofluorescence tests [24, 122], KOTV was originally classified as a lyssavirus but sequence analysis has clearly established its classification as a species (Kotonkan virus) in the genus Ephemerovirus [124]. Other established ephemerovirus species include Berrimah virus (BRMV), Adelaide River virus (ARV) and Obodhiang virus (OBOV). BRMV was isolated in 1981 from a healthy sentinel steer in the Northern Territory of Australia [125]. Antigenically, it is the most closely related ephemerovirus to BEFV, cross-reacting weakly in virus-neutralisation tests [124, 125]. Although there is evidence of widespread BRMV antibody in cattle in Australia, it has never been associated with clinical disease. Neutralising antibodies to BRMV have also been detected in cattle in China [87] and in cattle, water buffalo, sheep and goats in Indonesia [82]. ARV was also isolated from a healthy sentinel steer in the Northern Territory in 1981 and has no known association with disease [126]. It is most closely related antigenically and phylogenetically to OBOV which was isolated in 1963 from mosquitoes (Mansonia uniformis) in Sudan with which it cross-reacts weakly in virus-neutralisation tests [124]. Although little is known about the ecology or geographic distribution of these viruses, antibodies to ARV have also been detected in cattle in China and in water buffalo and goats in Indonesia [82].
Kimberley virus (KIMV), Malakal virus (MALV), Koolpinyah virus (KOOLV), Yata virus (YATV) and Puchong virus (PUCV) have not yet been classified formally but are likely to be assigned to the genus Ephemerovirus based on serological and phylogenetic relationships, and similarities in genome organisations and host/vector associations. KIMV was first isolated from mosquitoes (Culex annulirostris) collected in Western Australia in 1973 [127] and then subsequently on several occasions from biting midges (Culicoides brevitarsis) and healthy sentinel cattle in the Northern Territory and Queensland [45, 57, 128]. KIMV is indistinguishable in virus neutralisation tests from MALV which was isolated from mosquitoes (Mansonia uniformis) in Sudan in 1963, and these are now considered to be variants of the same virus species [129]. KIMV antibodies have been detected in cattle in China [130] and in cattle, water buffalo, goats and horses in Indonesia [82]. KOOLV was isolated in 1985 and 1986 from healthy sentinel cattle in the Northern Territory and shown to cross-react in virus-neutralisation tests with KOTV. At the time of the isolations, there was evidence of sero-conversion to KOOLV antibody in other cattle at the same site and in sheep infected experimentally with the virus. Subsequent sequence analysis of the KOOLV genome has established that it is indeed closely related to KOTV with a similar genome organisation and high levels of amino acid sequence identity between cognate proteins [131]. YATV was isolated in 1969 from mosquitoes (Mansonia uniformis) collected in the Central African Republic. Recent studies have established that YATV clusters phylogenetically with the ephemeroviruses and shares a similar genome organization [131]. PUCV was isolated in 1965 in Malaysia, also from Mansonia uniformis mosquitoes and was subsequently shown to cross-react in complement-fixation tests with MALV (strain SudAr-1169) and in indirect immunofluorescence tests with several other ephemeroviruses [24]. Recent sequence analysis has confirmed that PUCV is indeed an ephemerovirus, most closely related to KIMV (P.J. Walker and K.R. Blasdell, unpublished data). Further studies are required to better define the vectors, host range and prevalence, geographic distribution and pathogenicity of these poorly characterised ephemeroviruses.
6 Control and treatment of BEF
7 Conclusions
BEF is a disease for which the economic and social impacts are not always obvious and are frequently underestimated. Epizootics are now occurring more frequently in some parts of the world, there are increasing reports of alarmingly high case-fatality rates, and there is potential, under the influence of climate change and through the livestock trade, for spread of the disease to regions that are presently free. Although the epizootiology has been studied extensively in some regions, little is known of the distribution, prevalence and impacts over vast areas of Africa and Asia, relatively few virus isolates have been recovered and sequenced, and the specific vectors are not clearly defined anywhere in the world. This severely limits our ability to assess the relative importance and risk of spread by wind-borne dispersal of vectors and translocation through movement of livestock, and to assess the potential for establishment as an enzootic disease in Europe or the Americas through transmission by local vectors. Although a multitude of experimental and commercial vaccines have been developed, usage rates are often poor due to the irregular nature of epizootics and the need for multiple doses, and there are few published reports of the evaluation of vaccines under conditions in the field. The role of related viruses in the epizootiology of BEF is also unclear. This knowledge deficit provides a fertile field for future research.
Declarations
Authors' contributions
PJW and EK each contributed to writing the manuscript. Both authors read and approved the final manuscript.
Competing interests
The authors declare that they have no competing interests.
Open AccessThis article is distributed under the terms of the Creative Commons Attribution 4.0 International License (http://creativecommons.org/licenses/by/4.0/), which permits unrestricted use, distribution, and reproduction in any medium, provided you give appropriate credit to the original author(s) and the source, provide a link to the Creative Commons license, and indicate if changes were made. The Creative Commons Public Domain Dedication waiver (http://creativecommons.org/publicdomain/zero/1.0/) applies to the data made available in this article, unless otherwise stated.
Authors' Affiliations
(1)
CSIRO Health and Biosecurity, Australian Animal Health Laboratory, Geelong, Australia
(2)
Koret School of Veterinary Medicine, The Hebrew University, Rehovot, Israel
Copyright
© Walker and Klement. 2015